Nicaragua reiterates continued support for Taiwan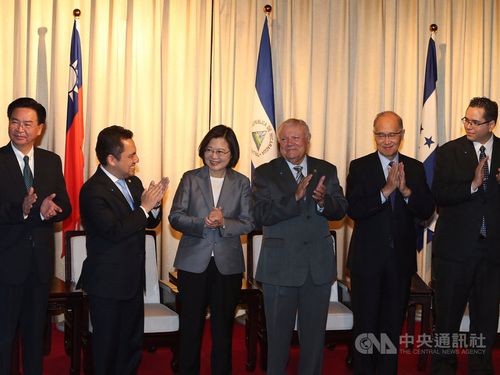 Taipei, Sept. 17 (CNA) Nicaragua's ambassador to Taiwan reiterated Tuesday his country's support for Taiwan, saying that Nicaragua will continue to work on strengthening bilateral relations.
"Taiwan is not alone, we are here to support you and to be by your side all the time, and I'm sure that many nations in the world share the feelings that I do," said William Tapia.
In a speech delivered to celebrate the 198th anniversary of Central American independence during a reception held in Taipei, Tapia praised Taiwan as a noteworthy partner that extends assistance to many countries around the world, sometimes even to those that do not have diplomatic relations with the country.
"Taiwan helps, my dear friends!" he said.
President Tsai Ing-wen (蔡英文), who also attended the reception, said Taiwan enjoys strong diplomatic ties with Nicaragua, Guatemala and Honduras and thanked them for standing up for Taiwan on the world stage.
"I'm sure that many of you saw yesterday's news that Taiwan lost a diplomatic ally due to China's threats and enticements. Over the past few years, China has used a variety of means to suppress our international space," Tsai said.
According to Tsai, China hopes to see Taiwan bow to its pressure and accept its "one country, two systems" principle.
"As I said yesterday, not a chance!" she said.
"In the face of China's suppression, Taiwan's sincerity toward our friends remains unchanged, as does our position regarding maintaining the peaceful and prosperous status quo in the Asia-Pacific region," she went on.
Tsai also expressed hope that Taiwan's diplomatic allies will continue to speak up for the country and for its meaningful participation in international organizations.
Among others who attended the event were Guatemalan ambassador to Taiwan Willy Alberto Gómez Tirado, Honduran Chargé d'Affaires ad interim Juan Carlos Barahona Rodríguez, National Security Council Secretary-General David Lee (李大維), Foreign Minister Joseph Wu (吳釗燮) and Control Yuan President Chang Po-ya (張博雅).