Taiwan breaks diplomatic ties with Solomon Islands (update)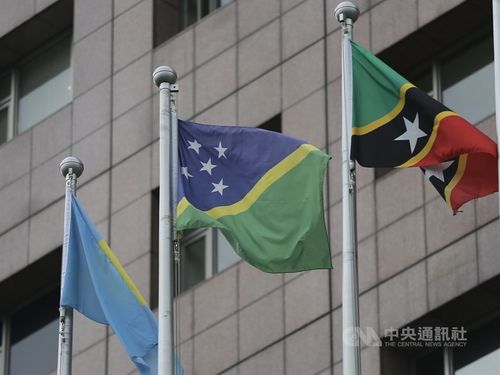 Taipei, Sept. 16 (CNA) Taiwan has cut diplomatic ties with the Solomon Islands as the South Pacific island-nation has decided to switch diplomatic recognition from Taipei to Beijing, Minister of Foreign Affairs Joseph Wu (吳釗燮) announced Monday.
Earlier in the day, Solomon Islands parliamentarians from the Democratic Coalition Government for Advancement voted 27-0, with six abstentions, to establish diplomatic ties with China. The decision was later approved by the Cabinet of Prime Minister Manasseh Sogavare.
The severing of ties on Monday leaves Taiwan with only 16 diplomatic allies. It came after months of speculation that the Solomon Islands was considering a diplomatic switch to Beijing.
The Solomon Islands has been assessing its relations with Taiwan since Sogavare took office after a general election in April.
A cross-party task force in the Solomon Islands recently submitted a report to the government there, recommending that the nation sever its long-standing ties with Taiwan and switch diplomatic allegiance to China by mid-September, according to a copy of the report obtained by CNA on Sept. 13.
"The government hereby declares the termination of diplomatic relations with Solomon Islands with immediate effect," according to a statement read by Wu in a press conference. He further said that Taipei will end all bilateral cooperative projects with Honiara.
Wu said Taipei will recall its embassy staff, technical mission, and medical mission stationed in the Solomon Islands, and demanded that Honiara immediately recall its government personnel from Taiwan.
He slammed Solomon Islands Prime Minister Sogavare and his Cabinet for basing their decision solely on a "highly biased" report by a bipartisan task force, without considering assessment by other government agencies and the public sector as promised.
Wu also criticized China for resorting to "dollar diplomacy and false promises of large amounts of foreign assistance" to buy off a small number of politicians in Honiara, with an intention to influence Taiwan's upcoming presidential and legislative elections in January 2020.
Last week, Taiwan's Up Media news site reported that China was offering the Solomon Islands US$500 million in financial assistance in exchange for the latter switching diplomatic recognition to Beijing.
Wu confirmed Monday that the report was "consistent with the information we obtained."
He nonetheless vowed to press on with Taiwan's diplomatic efforts.
"Taiwan has never capitulated under any setback in the international arena. Nor has it ever been defeated by any attempt at suppression," Wu said. "The more challenges Taiwan has faced, the more determined it has become."
After the separation with Honiara, Taiwan has only 5 diplomatic allies left in the South Pacific region, namely Kiribati, Marshall Islands, Nauru, Palau and Tuvalu. Wu assured that the diplomatic relations with these allies are "quite good" at present, as evidenced by close communications and interactions between both sides.
At the question and answer session, Wu said he had already reported the development on ties with Honiara to President Tsai Ing-wen (蔡英文) and was ready to assume the responsibility for losing another ally.
However, Presidential Office spokesman Chang Chun-han (張惇涵) said that Tsai understood the hard work of frontline diplomatic personnel in keeping Taiwan's allies, under tremendous pressure from Beijing, and she was not asking anyone to resign.
Republic of China, the official name of Taiwan, established diplomatic relations with the Solomon Islands in 1983. The Pacific nation was Taiwan's biggest ally in the South Pacific with a population of around 600,000.
Currently, there are about 125 Solomons student studying in Taiwan, with more than 60 recipients of Taiwan scholarships. The Ministry of Foreign Affairs (MOFA) said it will deal with these students in accordance with precedents under similar circumstances. However, officials cannot provide details immediately.
Honiara decided to cut ties only a few hours after Taiwan's Deputy Foreign Minister Hsu Szu-chien (徐斯儉) arrived in Honiara for Taipei's last-minute attempt to reverse the situation.
Although Honiara has not formally notified Taipei yet on its decision to sever ties with Taipei, Solomon Islands Foreign Minister Jeremiah Manele already informed Taiwan's embassy about it Monday afternoon, according to a source familiar with the matter.
The MOFA was supposed to summon Solomon Islands' ambassador to Taiwan Joseph Waleanisia (王哲夫) immediately after Wu's announcement. The ambassador, however, cannot be reached, the source said.