Taiwan requests allies to speak up on its behalf at U.N. assembly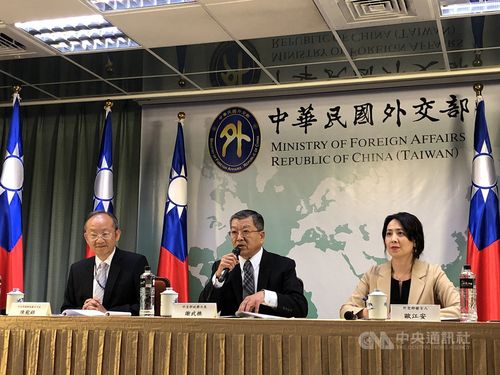 Taipei, Aug. 24 (CNA) Taiwan's government has requested the country's allies speak up for its cause of seeking to be included in the United Nations and its system, at the upcoming U.N. General Assembly, and will continue to push for inclusion, according to the Ministry of Foreign Affairs (MOFA).
The 74th session of the U.N. General Assembly will open on Sept. 17 at the U.N. Headquarters in New York, with the annual general debate scheduled for Sept. 24 to 30.
Due to China's objections, Taiwan is not allowed by the United Nations to attend the annual meeting, as Beijing objects to any treatment of the island as a country, insisting the two sides are a part of one China.
In a press conference on Friday, Deputy Minister of Foreign Affairs Kelly Hsieh (謝武樵) told reporters that Taiwan will continue to push for its inclusion in the U.N. system, focusing on the promotion of its role as an important partner for U.N. Sustainable Development Goals (SDGs).
The government has asked its allies to speak up for Taiwan in the upcoming General Assembly and has requested their permanent representatives to urge U.N. Secretary-General Antonio Guterres to resolve the long-standing issue of the exclusion of Taiwanese people from the U.N., through a joint letter, Hsieh said.
The MOFA has already received positive responses from these allies, he added.
Republic of China (Taiwan), the official name of Taiwan, lost its U.N. membership in 1971 with the passage of a resolution stating that the People's Republic of China (PRC) was the only legitimate representative of China to the international body.
Taiwan's government then launched an unsuccessful annual campaign starting in 1993 to rejoin the U.N. and to be included in its system and affiliated organizations.
Hsieh told reporters that Taiwan has three major appeals this year, which are: the U.N. should immediately resolve the plight of Taiwan in which its 23 million people are excluded from the U.N., the U.N. should not deprive the right of Taiwanese people and its media to visit the U.N. headquarters or to attend related activities, and the U.N. should ensure Taiwan's participation in the SDGs fairly and with dignity.
The government is also planning to hold activities with themes such as: sustainable development, climate change, universal health coverage and youth empowerment, to echo high-level meetings of the U.N. during its General Assembly.
The MOFA is planning to invite Minister without Portfolio responsible for digital technology Audrey Tang (唐鳳) or environmental officials to attend these activities organized by Taiwan in New York, Hsieh said.