Taiwan president meets with envoys to U.N. in New York (update)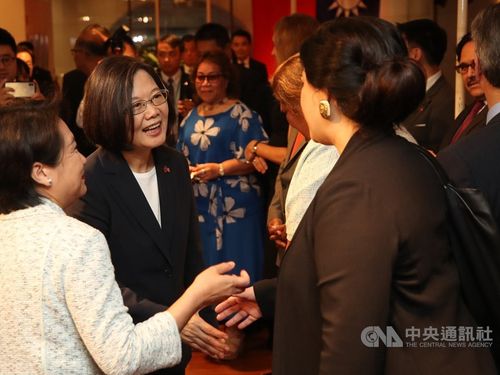 New York, July 11 (CNA) President Tsai Ing-wen (蔡英文) met with several representatives to the United Nations on Thursday in New York, after protests against her visit outside the hotel where she was staying turned violent.
pro-Beijing demonstrators outside midtown Grand Hyatt
During a reception at the Taipei Economic and Cultural Office (TECO) in New York, Tsai addressed the representatives to the U.N. from countries that are Taiwan's allies, saying she hoped the allies would continue to support Taiwan's efforts to gain access to the U.N.
"The 23 million people in Taiwan have the right to participate in international affairs," Tsai said. "Their participation should not be prevented based on political interference."
"Taiwan will not give in to intimidation," she said, referring to China's efforts to suppress Taiwan, which it sees as part of its territory.
Tsai said Taiwan's allies are crucial to its pathway into the world.
"Your efforts amplify the voice of the Taiwanese people, letting the whole world hear our desires," Tsai said at the first open event at TECO New York attended by a sitting president of Taiwan.
Tsai arrived in New York earlier in the day for a two-night stay before heading to the Caribbean, where she will make state visits to four of Taiwan's diplomatic allies.
a group of pro-Taiwan supporters
After a nearly 15-hour flight, Tsai arrived at John F. Kennedy International Airport in New York at 3 p.m. Thursday, where she was greeted by American Institute in Taiwan Chairman James Moriarty and Taiwan's top envoy to the U.S. Stanley Kao (高碩泰).
Before she arrived at the midtown Grand Hyatt, where she is staying during her two-day visit, a large number of protesters shouted "Unify China" across the street, while a group of pro-Taiwan supporters held up banners and waved Republic of China (ROC) flags to welcome Tsai.
Physical altercations between the two sides then broke out after the pro-Taiwan groups shouted "Commies, Get Lost!" at the pro-Beijing demonstrators, with the two sides yelling at and kicking each other.
Some were detained by police.
Physical altercations between the two sides breaks out
When asked to comment on the conflict outside the hotel before attending the reception at Taiwan's representative office, Tsai said that in a democratic society, people should express their views in a rational manner.
Tsai also answered other questions from reporters about recent events before and after the reception, including on U.S.-Taiwan relations, which she said have seen progress in recent years.
Taiwan will continue to strengthen the bilateral relationship, she said, and she expressed her gratitude for the recent arms sale package approved by Washington, while adding that Taiwan will continue to boost its self-defense capacity.
The arms sale, worth US$2.22 billion, includes 108 M1A2T Abrams Tanks and relevant equipment and support, 250 Block I-92F MANPAD Stinger missiles, and four Block I-92 MANPAD Stinger Fly-to-Buy missiles, according to a notification of the proposed sale released by the Defense Security Cooperation Agency on Monday.
When asked to comment on 23 Taiwanese media websites that reposted an article critical of her Tuesday from the official site of China's Taiwan Affairs Office word for word, Tsai said it was part of Chinese information warfare against Taiwan.
The warfare, Tsai said, seeks to create confrontation and conflict within Taiwanese society by fabricating and spreading fake news through proxy media outlets, which she described as constituting a great threat to Taiwan's democracy.
On Friday, Tsai will hold closed-door talks hosted by Andrew Nathan, professor of Political Science at Columbia University, with a number of scholars and graduate students from the university.
She will leave New York Saturday to head to the Caribbean and arrive in Haiti the same day, where she will tour a Taiwan trade exhibition with Haitian President Jovenel Moise and attend a state banquet the same day.
She will then proceed to Saint Kitts and Nevis, where she will stay three nights.
The third destination will be St. Vincent and the Grenadines, where Tsai will meet Prime Minister Ralph Gonsalves on July 16 and witness the signing of a transnational anti-crime agreement.
On her last stop in Saint Lucia, Tsai will visit Prime Minister Allen Chastanet and Governor-General Emmanuel Cenac.
Tsai will then go back to the United States for a two-day stopover in Denver before returning to Taiwan on July 22.