DPP legislative candidates named for difficult electoral districts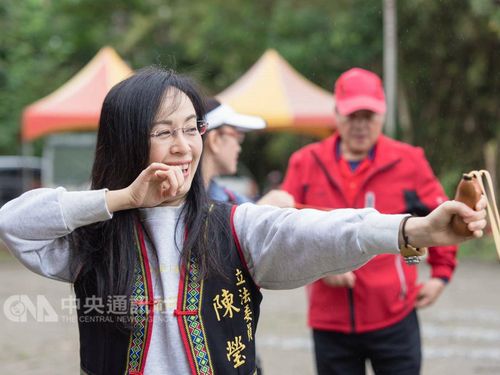 Taipei, July 10 (CNA) The ruling Democratic Progressive Party (DPP) passed its first list of legislative candidates recruited for difficult electoral districts in the 2020 race Wednesday, moving one step closer to its goal of completing the party's list of regional legislative candidates by July.
The recruited candidates include DPP Legislator Tsai Shih-ying (蔡適應) for the Keelung City electoral district, former Hsinchu City Councilor Cheng Hung-huei (鄭宏輝) for the Hsinchu City electoral district, and DPP Legislator Chen Ying (陳瑩), a member of the indigenous Puyuma tribe, for the plains aboriginal electoral district.
Their recruitments were passed by the DPP's Central Executive Committee (CEC) during a meeting that was presided over by DPP Chairman Cho Jung-tai (卓榮泰).
The three districts are among the 20 electoral districts listed by the DPP as "difficult" ones, as the party received less than 42.5 percent of the votes there in the previous legislative elections in 2016.
There are 113 seats at the Legislative Yuan, of which 79 are filled by regional lawmakers representing 75 electoral districts and 34 by legislators-at-large. At-large seats are allocated proportionally to political parties that receive more than 5 percent of the "political party" votes in the election. The DPP currently holds 68 seats.
According to DPP spokesman Chou Chiang-chieh (周江杰), the party decided its regional legislative candidates for the majority of the less difficult electoral districts via primaries in late May.
Following Wednesday's recruitments, the DPP now only needs to worry about the remaining 26 electoral districts, where the party might field its own candidates or cooperate with other political parties, Chou said.
Asked whether the DPP would consider teaming up with the New Power Party (NPP) in some of the electoral districts for the 2020 legislative race, Cho said before entering the CEC meeting that the DPP is open to cooperation with "anyone and any party."
Cho said that as the DPP's strategic planning for regional legislative seats representing difficult districts needs to factor in the willingness of its own party members and possible modes of cooperation with other political parties, it has to be handled with discretion.
"We are hoping to complete the process before the end of July," he said, adding that the DPP also plans to establish a nomination committee for at-large legislators later this month.