Protocols for DPP primary platform presentation set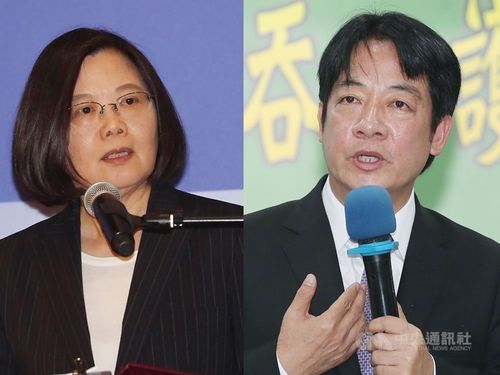 Taipei, June 3 (CNA) President Tsai Ing-wen (蔡英文) and former Premier Lai Ching-te (賴清德) have reached a consensus on several protocols for their platform presentation to be held on June 8 as part of the presidential primary of the Democratic Progressive Party (DPP).
A meeting attended by representatives from both camps was held at the DPP headquarters on Monday to discuss the arrangement of the platform presentation, the ruling party announced in a press release.
The presentation will be held at 2 p.m. on June 8 at the Chinese Television Service (CTS) studio, according to the press release.
During the meeting on Monday, both sides agreed that candidates should not wear campaign related clothing or accessories, including clothes with the candidate's name printed on it.
They also agreed not to mobilize their supporters to the venue, not to run TV ads during the debate, and not to use signboards or props while speaking.
As to the flow of the event, Lai will deliver his opening statement followed by Tsai, according to a draw conducted during the meeting.
Then both candidates will be grilled by the Liberty Times' editor-in-chief Tzou Jiing-wen (鄒景雯), Taiwan Citizen Front founder Lai Chung-chiang (賴中強) and Business Today's president Liang Yung-huang (梁永煌) during three rounds of questioning, in which they will have 4 minutes to answer each question.
In the conclusion segment, Tsai will speak ahead of Lai, in an opposite order from the opening statement portion of the presentation.
DPP Secretary-General Lo Wen-jia (羅文嘉) reminded both sides that no campaign activity will be allowed beginning June 7 pursuant to the rules and regulations on nominating public officials, according to the press release.
The DPP also assured the public that the primary public opinion polls on June 10-14 will be done in a fair and impartial manner, Lo was quoted in the press release as saying.