Ex-AIT director tells Taiwan not to be a 'surprise maker'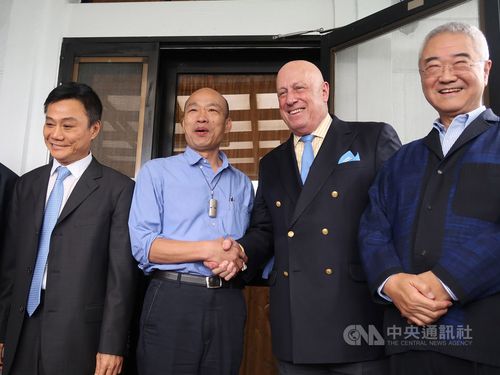 Kaohsiung, May 27 (CNA) Taiwan should not be a "surprise maker" in regional affairs, visiting former American Institute in Taiwan (AIT) Director Douglas H. Paal was quoted as saying Monday.
Paal, who is on a visit to Kaohsiung, made the remark during a lunch with Kaohsiung Mayor Han Kuo-yu (韓國瑜) and other politicians after watching a hearing at the Kaohsiung City Council.
Paal, currently a distinguished fellow at the Carnegie Endowment for International Peace, told the mayor he was particularly concerned about how Taiwan will position itself between China and the United States and how Taiwan can avoid being a "surprise maker" in regional affairs, according to Han.
In response, Han said he told Paal that the most important thing for Taiwan now is to dismantle all fences and walls because Taiwan should not constrain itself in its interactions with the U.S., China and Southeast Asian countries.
"Taiwan definitely should not be a trouble maker," Han said.
Paal arrived in Taiwan on Saturday for a four-day private visit.
During his meeting with the retired American official, Han, the first Kaohsiung City mayor from the Kuomintang in two decades, said the "1992 consensus" and his objection to Taiwan independence are his proposed stabilizers for cross-Taiwan Strait relations.
Han described the two elements as the passwords that can open the door to cross-strait exchanges.
Meanwhile, Paal expressed interest in the future direction of Taiwan's economic development and whether Taiwan was prepared for it, because he was concerned about the possible impact of the U.S.-China trade war on Taiwan and its next step going forward.
U.S.-Taiwan trade issues regarding beef, pork and farm products were among the other topics they touched on in Monday's meeting, Han said.
When asked by reporters whether he supports Han's bid for the presidency in the 2020 election, Paal said he is not Taiwanese and therefore will not interfere in Taiwan's internal affairs.