U.S. presidential hopeful congratulates Taiwan on gay marriage bill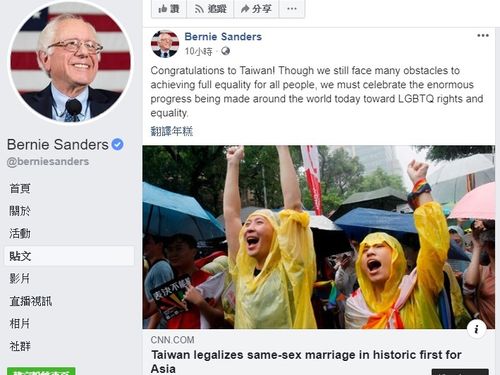 Washington, May 17 (CNA) U.S. Senator Bernie Sanders, a Democratic presidential hopeful, congratulated Taiwan on the passage of its same-sex marriage bill Friday.
"Congratulations to Taiwan," Sanders posted on Facebook.
"Though we still face many obstacles to achieving full equality for all people, we must celebrate the enormous progress being made around the world today toward LGBTQ rights and equality," the post reads.
Meanwhile, Taiwanese-American U.S. Representative Ted Lieu applauded Taiwan for passing the same-sex marriage bill.
"Congratulations to Taiwan for choosing love over hate," Lieu wrote on Twitter. "Progress will not be stopped."
U.S. Representative Joyce Beatty and the U.S. House Foreign Affairs Committee also tweeted Friday to praise Taiwan on becoming the first Asian nation to legalize same-sex marriage.
Taiwan made Asian history Friday by legalizing gay marriage, after its Legislature cleared a bill that gives same-sex couples the right to get married.
The new law will take effect May 24, allowing two persons of the same gender aged 18 or older to register their marriage.
Either partner in the marriage will be allowed to adopt the biological children of the other, under the law.
However, non-biological children who had been adopted by one partner before the marriage cannot be adopted by the other partner, it states.