Cabinet, DPP lawmakers to meet prior to gay marriage vote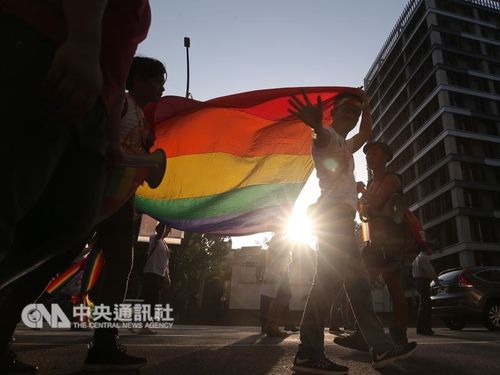 Taipei, May 15 (CNA) The Executive Yuan will hold a meeting Thursday with lawmakers of the ruling Democratic Progressive Party (DPP) to seek support for a Cabinet proposal on same-sex marriage ahead of three competing draft bills to be put to a vote of the full Legislative Yuan Friday.
In addition to the Cabinet-proposed draft bill, DPP Legislator Lin Tai-hua (林岱樺) and opposition Kuomintang (KMT) Legislator Lai Shyh-bao (賴士葆) also introduced their own proposals that seek to define same-sex relationships.
Of the three bills, the Executive Yuan version permits marriage between same-sex couples, while Lai's and Lin's versions only allow the formation of a same-sex "familial relationship" and "union," respectively.
The two designations have been coined to replace the word "marriage" due to strong opposition from anti-same sex marriage advocates, whose efforts to push the definition of marriage as between a man and a woman only gained recognition via a referendum in November 2018.
Regarding the matter of children, the Executive Yuan bill allows one party to adopt the biological children of the other, but not their non-biological ones, with the other two bills permitting merely a form of guardianship.
Lawmakers across party lines failed to reach a consensus on several key controversial clauses in a review of the three competing bills Tuesday.
The three proposals will be put to a vote during a plenary legislative session Friday.
Lawmakers are expected to put all the controversial clauses and motions to a vote at the plenary session so as to deliver a bill that legalizes same-sex relationships before a May 24 deadline set by Constitutional Court Interpretation No. 748, which guarantees same-sex couples with the right to marriage equality.
If no such legislation is passed, same-sex couples will be allowed to register their marriages under the existing Civil Code as it applies to heterosexual couples, according to a Constitutional Court ruling.
Meanwhile, DPP Chairman Cho Jung-tai (卓榮泰) said he has asked DPP at-large legislators to support the Cabinet-proposed draft bill and called on party lawmakers to help push for its passage through the Legislature.