Pro-China party cancels rally, citing security concerns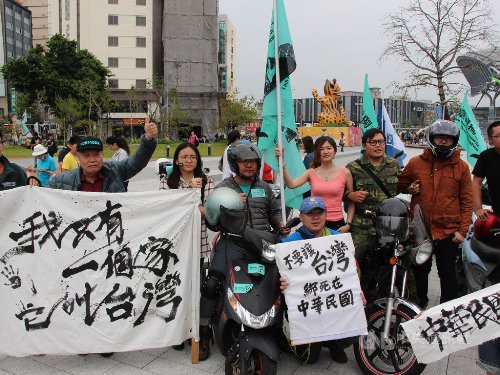 Taipei, April 13 (CNA) The pro-Beijing Chinese Unity Promotion Party (CUPP) announced Saturday that a cross-Taiwan Strait unification-themed forum and march scheduled to take place in Taichung that afternoon had been canceled, citing security concerns.
The decision was made in light of possible social unrest and the participants' security, the party said in a statement.
The planned activities came to the public spotlight earlier this week after it was reported that Chinese scholar Li Yi (李毅), who advocates the use of force to achieve unification between China and Taiwan, was set to make a speech at the forum.
Chinese scholar Li Yi (李毅)
Li was deported from Taiwan Friday for violating the terms of his entry permit.
President Tsai Ing-wen (蔡英文) said Saturday that Taiwan has no reason to allow Li to stay here.
By advocating unification by means of force, Li constitutes a national security threat to Taiwan, she said.
According to Huang Shou-ta (黃守達), a DPP city councilor in Taichung, Li has said that once the Chinese People's Liberation Army crosses the Taiwan Strait, Taiwanese can forget about the issue of independence.
Prior to the CUPP announcement, Lee Tien-sheng (李天生), the Democratic Progressive Party (DPP) caucus convener for the Taichung council, criticized Taichung Mayor Lu Shiow-yen (盧秀燕) for approving the activity, questioning if she is also promoting Beijing's agenda and supports the adaptation of "one country, two systems" in Taiwan, a formula proposed by Chinese President Xi Jinping (習近平) earlier this year.
In a similar tone, DPP City Councilor Chiang Chao-kuo (江肇國) urged Lu to take Taiwan's sovereignty seriously and to suspend pro-unification marches.
In response, Taichung Information Bureau chief Wu Huang-sheng (吳皇昇) said the remarks the councilors made are "deliberate political manipulation" that shows that Taiwanese society dismisses the essence of democracy and diversity.
Meanwhile, a counter demonstration by a group of civic organizations in Taichung will still go ahead, said the organizer.