Paul Ryan suitable choice to lead U.S delegation to TRA events: MOFA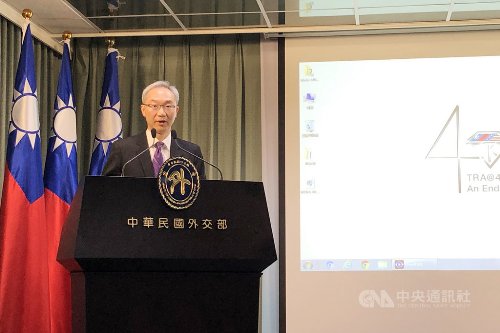 Taipei, April 11 (CNA) Taiwan expressed its respect Thursday to a U.S. decision to send former U.S. House Speaker Paul Ryan to head a delegation to attend a series of events to mark the 40th anniversary of the Taiwan Relations Act (TRA), saying that he is a "suitable choice" to represent the U.S.
"We believe he is a suitable choice to lead the U.S. delegation," Vincent Yao (姚金祥), head of the foreign ministry's Department of North American Affairs, told reporters.
Ryan holds no government position, but Yao said he has close connections to the U.S. Administration and President Donald Trump.
He said the ministry had hoped that the U.S. would send higher- level officials to the TRA events, possibly in further celebrations scheduled for later in the year.
Ryan served as the 54th House of Representatives speaker from October 2015 to January 2019. He announced in April 2018 that he would not be seeking re-election, ending a 20-year run in Congress.
The U.S. Speaker of the House is second in line to succeed the president, after the vice president.
The U.S. delegation also includes U.S. sitting congresspersons Eddie Bernice Johnson, Don Bacon, Hank Johnson and Salud Carbajal; two senior officials; Jane Nishida, principal deputy assistant administrator under the Environmental Protection Agency; and David Meale, deputy assistant secretary for trade policy negotiations the in State Department's Bureau of Economic and Business Affairs.
The delegation will participate in a series of events beginning April 15, including a ceremony and reception hosted that day at the American Institute in Taiwan's (AIT's) new office compound in Neihu, titled "TRA and AIT@40: Celebrating 40 Years of Friendship" and AIT's "Women's Economic Empowerment Summit," which will be held the following day.
The TRA, which forms the cornerstone of Taiwan-U.S. relations, was signed by then-President Jimmy Carter April 10, 1979, retroactive until Jan. 1 of that year, when the U.S. switched its diplomatic recognition from Taipei to Beijing.
AIT was established later in 1979 to promote unofficial substantive relations between Taiwan and the U.S..