Taiwan-U.S. relationship will continue to prosper: American official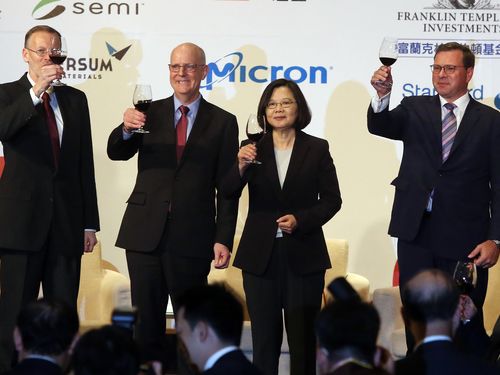 Taipei, April 10 (CNA) The relationship between the United States and Taiwan will continue to prosper, as the two sides commemorate the 40th anniversary of the Taiwan Relations Act (TRA), a visiting senior U.S. official said Wednesday.
Speaking at a banquet hosted by the American Chamber of Commerce (AmCham) in Taipei, U.S. Deputy Assistant Secretary of State David Meale said Taiwan and U.S. have had close trade and economic ties for decades.
He noted that Taiwan is America's 11th-largest trading partner, while the U.S. is Taiwan's second largest trading partner after China.
But both sides share not only a close economic relationship, but also the values of democracy, Meale said.
As the two sides mark the 40th anniversary of the TRA, which provides the legal basis for unofficial bilateral relations, their ties will only grow stronger, he said.
"As we ponder the anniversary of the TRA, I will take a moment to make a few predictions," Meale said. "First, the relationship between the United States and Taiwan will continue both to prosper and to enhance the prosperity of those who participate in U.S.-Taiwan commercial interaction on both sides of the Pacific."
He said the U.S. "will remain steadfast in all of its commitments to Taiwan, reflecting the enduring nature of our shared interests."
The U.S. will continue to support the "positive trajectory of U.S.-Taiwan economic relations," he said, describing Taiwan as "a democratic success story, a reliable partner, and a force for good in the world."
It is important to continue bilateral cooperation in the areas of innovation, intellectual property rights protection and investment, said Meale, who is the deputy assistant secretary for trade policy negotiations in State Department's Bureau of Economic and Business Affairs.
On a personal note, the visiting U.S. official said, he served at the American Institute in Taiwan (AIT), the de facto U.S. embassy, from 2000 to 2004.
"It would be a pleasure to be back at any given time, but it is all the more meaningful to join you as we mark the 40th anniversary of the TRA," he said at AmCham's annual Hsieh Nien Fan banquet, at which President Tsai Ing-wen (蔡英文) also spoke.
In her address, Tsai said Taiwan has seen better-than-expected GDP growth over the past three years, which proved that its economy remained strong.
There are people who think that "accepting economic incentives from authoritarian governments is the way to economic progress, but that is not the future we want," she said, referring to China's ongoing efforts to win over Taiwanese with promises of increased trade.
"We want a future where Taiwan is strong on our own terms; based on our own value and interest," Tsai said. "We are not asking for handouts; we want investments that are sustainable, we want to sell things in a way that doesn't compromise our democracy and way of life."
Tsai urged the U.S. to officially engage in talks with Taiwan on a bilateral trade agreement so that the two countries can continue to strengthen their economic ties in a mutually beneficial relationship.
Meale arrived in Taiwan on Tuesday to attend a series of events to mark the 40th anniversary of the TRA.
During his one-week visit, he is scheduled to open a joint U.S.-Taiwan workshop on stopping digital piracy and protecting trade secrets and to hold discussions with Taiwan authorities on a range of issues related to the U.S.' relationship with Taiwan, according to the AIT.
The TRA was signed in April 1979 by then U.S. President Jimmy Carter, a few months after the U.S. switched diplomatic recognition from Taipei to Beijing.
The act provides a legal basis for unofficial relations between the U.S. and Taiwan and enshrines in law the U.S.' commitment to helping Taiwan maintain its self-defense capability.