President Tsai arrives in Hawaii on stopover, greeted by AIT chairman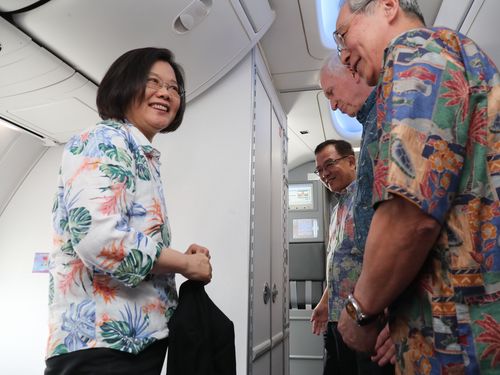 Hawaii, March 26 (CNA) Taiwan's President Tsai Ing-wen (蔡英文) made a stop-over in Hawaii Tuesday on her way home from a trip to some of the country's Pacific allies.
Upon her arrival, Tsai was greeted by James Moriarty, chairman of the American Institute in Taiwan (AIT), and Taiwan's representative to the United States Stanley Kao (高碩泰).
President Tsai Ing-wen (蔡英文, left), Taiwan's representative to the United States Stanley Kao (高碩泰, right), American Institute in Taiwan Chairman James Moriarty (second right), and Taipei Economic and Cultural Office in Honolulu Director-General Michael Tseng (曾永光, third right)
The AIT represents U.S. interests in Taiwan in the absence of diplomatic ties.
Tsai had just concluded her eight-day visit to three diplomatic allies in the Pacific that took her to Palau, Nauru and the Marshall Islands.
During the transit stop in Hawaii, Tsai will deliver an address to the Heritage Foundation via video broadcast at 9 a.m. Wednesday (local time), according to Taiwan's Presidential Office.
Kay Coles James, president of the Washington-based Heritage Foundation, will serve as moderator for the event and the attendees will include Edwin J. Feulner Jr., the co-founder of the conservative think tank, and various other U.S. politicians and think tank representatives.
In an article published in the Washington Times Monday, Feulner praised the U.S.-Taiwan ties and the values shared by the two sides.
"Taiwan and the United States have a long and honorable history. Our peoples joined in a common cause and fought to contain the spread of communism," he said.
Feulner further said that America's commitment is reflected in the Taiwan Relations Act (TRA).
The spirit and intent of the act -- to deter aggression from Beijing, promote economic freedom and protect human rights on Taiwan -- are as robust today as they were in 1979, he noted.
In addition to the video conference, Tsai will also attend a photo exhibition staged to mark the 40th anniversary of the TRA at the East-West Center, a Honolulu-based think tank.
Following the exhibition, she will visit the Hawaii Emergency Management Agency, a government disaster control body.
Tsai is scheduled to arrive back in Taiwan at 8:20 p.m. March 28.