President Tsai registers for DPP presidential primary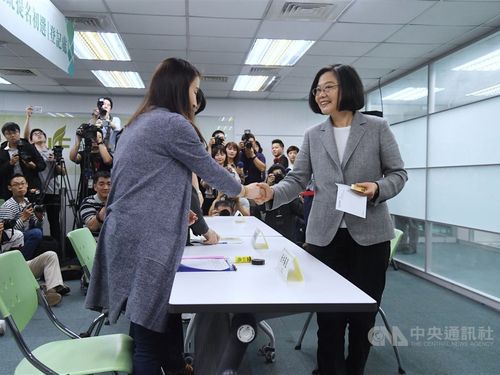 Taipei, March 21 (CNA) President Tsai Ing-wen (蔡英文) registered Thursday to seek the Democratic Progressive Party's (DPP) nomination as its candidate in the 2020 presidential election.
After arriving at DPP headquarters, Tsai said some people had commented that she was seeking re-election despite opposition from Beijing, but reiterated that for her the main reason was: "The DPP needs Tsai Ing-wen. Taiwan also needs me."
"I want to once again shoulder the responsibility for Taiwan as we move onto the next stage," she added.
Prior to registration, Tsai sent a message around noon through social media app LINE, saying that Taiwan is currently in a difficult situation facing both external threats and internal challenges and that in such a situation a candidate must meet three requirements:
First, as Taiwan is facing external threats from China, he or she must strengthen Taiwan's links to the wider world and encourage like-minded countries to protect the values of democracy and maintain regional stability and peace with Taiwan. Such a situation requires a person familiar with international affairs and capable of coordinating with other countries and interacting with other groups and politicians, according to the president.
Second, faced with Taiwan's many problems and challenges, leaders of the previous administrations chose evasion and procrastination whereas she chose reform, Tsai said, adding that it is the responsibility of the country's president to tackle problems that hinder the progress of society despite the opposition of vested interests.
Third, Tsai said, the presidential candidate is not only a star player, he or she must also be a good captain, unify the party and bring together like-minded people in society to push forward national policies.
After completing her registration for the primary, Tsai embarked on an 8-day visit to diplomatic allies in the Pacific.
Former Premier Lai Ching-te (賴清德) registered for the DPP presidential primary on March 18, making this the first time a DPP president has ever faced a party primary.