EU welcomes Taiwanese draft act on same-sex marriage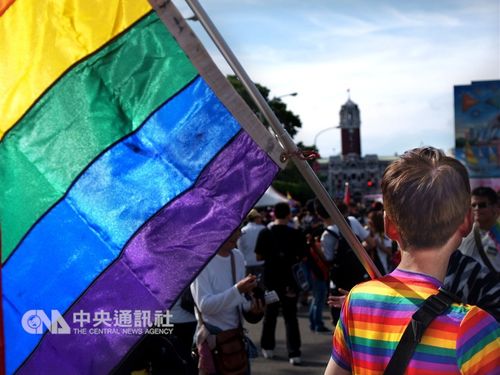 Taipei, Feb. 21 (CNA) The European Union welcomed Thursday a Taiwanese draft act on same-sex marriage unveiled a day earlier, while expressing hope that gay rights in the country will continue to advance.
In a Facebook post, Madeleine Majorenko, head of the European Economic and Trade Office (EETO) -- the EU's representative office in Taiwan -- said her office "welcomes the draft act on same-sex marriage proposed by the Executive Yuan, and looks forward to the continuous advancement of LGBTI rights in Taiwan."
Though it is already one week after Valentine's Day, the EETO said in the post that it would still like to wish everyone a Happy Valentine, and "that all shall be well, Jill shall have Jill," a play of words on the English saying "all shall be well, Jack shall have Jill."
The EETO was referring to a draft bill released by the Executive Yuan late the previous day.
Officially titled "The Enforcement Act of Judicial Yuan Interpretation No. 748," the bill is the first in Taiwan to be named after a constitutional interpretation, and was so named to avoid causing disputes between supporters and opponents of same-sex marriage.
CNA file photo
The bill was drafted in line with a Constitutional Court ruling on May 24, 2017, which states that the prohibition of same-sex marriage is unconstitutional.
Following the results of a Nov. 24, 2018 referendum, in which conservative groups scored a victory against any amendments to the Civil Code to allow legalization of gay unions, the Cabinet decided to create a special separate draft bill to legalize same-sex marriage, which is expected to be enacted by May 24.