Taiwan protests provocative song, video released by China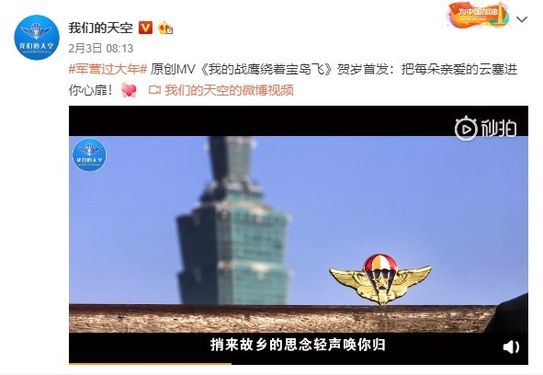 Taipei, Feb. 4 (CNA) Taiwan's government has lodged a protest with Beijing over a song and a video clip released by China's Air Force on Sunday showing its efforts to unify with Taipei by force.
In its Weibo account, the People's Liberation Army (PLA) Air Force Airborne Corps released a song called "My fighter jets are flying around Taiwan" and a video clip showing images taken from some of Taiwan's main landmarks, including Taipei 101.
In its lyrics, the song tells of the Chinese people's desire to "reunite" Taiwan with the mainland, demonstrated by PLA fighter jets constantly flying around the island.
Taiwan's Mainland Affairs Council (MAC) responded with a protest to China on Monday, denouncing Beijing's saber-rattling measure as provoking cross-strait and regional tensions.
"This approach aims at reunifying Taiwan with force and will only have counterproductive results as Taiwanese will find it repulsive and distasteful," the MAC statement said.
MAC stressed that the Republic of China (Taiwan) Armed Forces always stands ready to defend the country.
Taiwan will continue to staunchly defend its sovereignty and security and its democratic way of life rather than succumb to Chinese threats, the MAC said.
Also in response to the PLA video, Taiwan's Ministry of National Defense released a 90-second video on Monday that pieced together clips of exercises conducted last year by all branches of the Armed Forces.
The message was to show that Taiwan's troops are standing on guard around the clock despite the nine-day Lunar New Year holiday, according to the military.
"Many men and women serving in the Armed Forces will miss New Year's Eve dinners with their families, but they will not be absent from standing on guards to protect the country," read the military spokesman's latest post on his Facebook page.
The growing military threat from the enemy will only strengthen the Armed Forces' determination to safeguard the security of the R.O.C. in order to defend the nation's democracy and maintain peace and stability across the Taiwan Strait and in the region, it said.