Culture minister slapped by entertainer at public gathering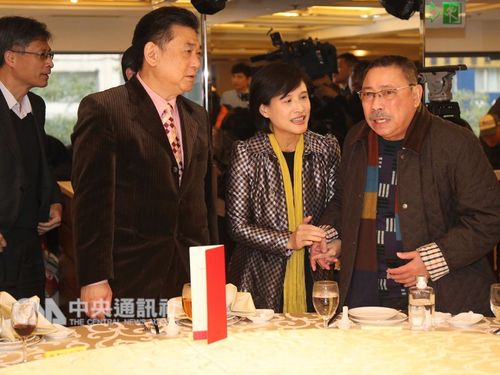 Taipei, Jan. 22 (CNA) Minister of Culture Cheng Li-chiun (鄭麗君) was slapped in the face by a retired entertainer at a lunch Tuesday, the woman later saying she struck the minister because she opposes Cheng's decision to re-purpose National Chiang Kai-shek Memorial Hall, a monument erected in memory of late President Chiang Kai-shek (蔣中正).
Singer Cheng Hui-chung (鄭惠中), 67, slapped the minister across the face as she was talking to a third person at the annual Spring Festival gathering of local television entertainers held by the Care for Entertainers Foundation in Taipei.
Cheng Li-chiun held the left side of her face and watched as her attacker walked away without saying anything. Despite being clearly shaken she continued to toast people at the gathering, but shortly thereafter abruptly left.
Shorty after the incident, the minister explained what had happened at the lunch in a post on her Facebook page. She said that while talking to several entertainers, "suddenly a woman who I do not know struck me."
Despite admitting to being shocked, the minister asked her friends not to worry about her, expressing thanks to those who comforted her after the attack.
Cheng Li-chiun said that being slapped was a small matter, personally, but "Taiwan's democracy must not be harmed."
"Freedom and democracy are Taiwan's most precious values," she said, noting that there are many different opinions in Taiwan's society and "We hope people will talk and engage with each other on the issues."
"We should not express our opinions with violence," Cheng said.
The lunch host, Chinese Television System (CTS) general manager Leon Chuang (莊豐嘉), denounced the violence on behalf of the foundation he chairs, and said he plans to report the incident to the police.
In Taiwan, cases of common assault in which the victim is not seriously injured are only prosecuted if the victim reports the assault to the police.
However, before Chuang reported the incident to the police, Cheng Hui-chung showed up at Taipei Police Department's Da'an Precinct accompanied by Taipei City Councilor Angela Ying (應曉薇) to make an official statement on the incident.
Ying later told the press that Cheng Hui-chung will visit the Ministry of Culture at 9:30 a.m. Wednesday, to apologize in person to the minister for slapping her.
Before going to the police station, however, Cheng Hui-chung held a press conference at Ying's company, at which she said she momentarily lost control because both Cheng Li-chiun and the ruling Democratic Progressive Party (DPP) promote a policy of eradicating references to the "Chiang" family in Taiwan.
She is prepared to apologize for slapping the minister but will not apologize for her protest against the government's "anti Chiang" policy, Cheng Hui-chung said.
The anti-Chiang policy refers to an effort by pro-independence activists in recent years to remove all traces of the rule of Chiang Kai-shek and his son Chiang Ching-kuo (蔣經國) over Taiwan.
Under this policy, statues of Chiang Kai-shek have been removed from public parks, schools and military bases. The DPP government is also planning to rename and transform National Chiang Kai-shek Memorial Hall into an example of transitional justice.
After being informed about the attack, President Tsai Ing-wen (蔡英文) said in a post on her Facebook page that she called Cheng Li-chiun to make sure the minister was okay.
Denouncing violence, the president said in democratic Taiwan, people are free to express their personal opinions. "You can have different stances, but it's wrong to hit someone."
"What consequence would there be if the same behavior happened in the authoritarian era? The answer is exactly the reason we should cherish the democracy," Tsai wrote.
Following the attack, Premier Su Tseng-chang (蘇貞昌) and his deputy Chen Chi-mai (陳其邁), as well as DPP lawmakers also condemned violence.