KMT lawmaker Lu Shiow-yen resigns to focus on Taichung mayoral race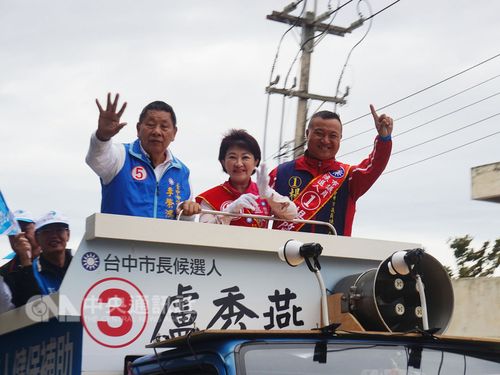 Taipei, Nov. 20 (CNA) The Kuomintang (KMT) candidate in the upcoming Taichung mayoral election Lu Shiow-yen (盧秀燕) announced her resignation as a lawmaker from the national legislature Tuesday, as a way of demonstrating her determination to win the race on Nov. 24.
Lu is the fourth lawmaker to resign and focus on the local government elections, following Yao Wen-chih (姚文智), Taipei mayoral candidate from the ruling Democratic Progressive Party (DPP); KMT candidate Chang Li-shan (張麗善) running in the Yunlin County Magistrate election; and DPP Kaohsiung mayoral candidate Chen Chi-mai (陳其邁).
Calling the election a must-win race, Lu said she has promised she will free Taichung from air pollution, low wages and economic stagnation if elected.
"It's a very big responsibility," she said, "I must win."
Although the posts from which Chang and Chen resigned were for legislators-at-large, candidates for which are chosen by their parties, the legislative seats left vacant by Yao and Lu must be filled through by-elections based on the Civil Servants Election And Recall Act, because there is more than a year before their terms are officially completed on Jan. 31, 2020.
Under the act, legislative by-elections must be held within three months of a lawmaker resigning.