Taiwan to encourage quality investment in St. Lucia: Tsai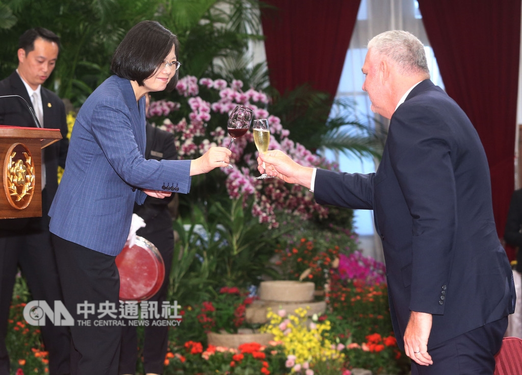 Taipei, Oct. 9 (CNA) Taiwan's government will actively encourage top Taiwanese manufacturers to invest in infrastructure in St. Lucia to help its development and elevate the partnership between Taiwan and the Caribbean nation, President Tsai Ing-wen (蔡英文) said Tuesday.
Tsai made the remarks at a meeting with Prime Minister Allen Michael Chastanet of St. Lucia, who is in Taiwan to participate in National Day celebrations on Wednesday, according to the Presidential Office.
Taiwanese investment in St. Lucia is based on the principles of reciprocity and mutual assistance, Tsai said, citing as an example the Internet backbone project built by Taiwan to provide free wireless internet coverage in the Caribbean island.
Tsai also thanked Chastanet for voicing support for Taiwan's international participation at last year's United Nations Climate Change Conference and at the just-concluded U.N. General Assembly last month.
St. Lucia first established diplomatic ties with the Republic of China in 1984, but in 1997, switched recognition to the People's Republic of China.
It then severed ties with Beijing and recognized Taiwan again in 2007 and opened its embassy in Taipei in June 2015, making it St. Lucia's first embassy in Asia.
With the friendship between St. Lucia and Taiwan thriving over the past 10 years, St. Lucia will continue to speak up for Taiwan in international forums and cooperate with Taiwan in pursuit of better development, Chastanet said.
At a state banquet for Chastanet hosted by Tsai following the meeting, Chastanet said St. Lucia and Taiwan face similar challenges as small island nations, often seeing their positions on the world stage being marginalized.
When it comes to dealing with climate change issues, for example, it's fairly obvious that the future of small nations lies in the hands of other countries, he said.
Saint Lucia also understands the predicament faced by Taiwan in trying to access international organizations due to opposition from mighty nations and considers the exclusion of Taiwan from such organizations as the World Health Organization and International Civil Aviation Organization a loss to the world, Chastanet said.
It is an understanding that is even more strongly felt when he is in Taiwan and sees the level of its democratic development and humanity, he said.