President Tsai 'very mature' in cross-strait ties: ex-U.S. official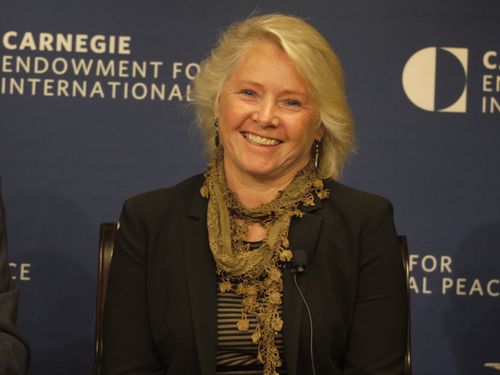 Washington, Oct. 5 (CNA) Susan Thornton, former U.S. acting assistant secretary of state for East Asian and Pacific affairs, on Friday praised President Tsai Ing-wen (蔡英文) as being "very mature" in her attitude toward cross-Taiwan Strait ties.
On the sidelines of a seminar held by the Carnegie Endowment for International Peace, a think tank in Washington, Thornton admitted relations between the United States and China have been deteriorating, but what Taiwan needs to do is keep doing what it has been doing, as it has a consistent policy toward China.
"I think President Tsai has really been very mature in her approach to cross-strait relations," Thornton said. "I think basically keeping things steady as she goes, not overacting to things and to try to keep communications going across the (Taiwan) Strait is very important."
"That's what I would definitively prescribe as a continuation," said Thornton, who retired from her position at the U.S. State Department in July.
When asked to comment on U.S. Vice President Mike Pence's recent harsh rhetoric on China, Thornton said it was hard to say whether the Trump administration is changing its policy toward Beijing.
Pence on Thursday condemned Beijing for threatening stability across the Taiwan Strait and accused China of resorting to economic aggression to extend its global reach.
In remarks delivered at the Hudson Institute on U.S. policy toward China, Pence alleged that Beijing has been using so called "debt diplomacy" to expand its influence across the world.
But Thornton said: "Most of the things have been going on for decades. Nothing is really new there."
She added that it was necessary to observe what the Trump government will do next to get more clues as to whether its policy toward China has changed.
In his speech delivered at the Hudson Institute, Pence used "respect" instead of "commit" when he mentioned the United States' One China policy, which has raised questions about the possibility of a change in Washington's attitude toward Beijing.
Pence said: "While our administration will continue to respect our One China policy, as reflected in the Three Joint Communiques and the Taiwan Relations Act, America will always believe that Taiwan's embrace of democracy shows a better path for all the Chinese people."
However, Thornton said she did not believe there was any change to U.S. policy.
Thornton said Pence's remarks simply represented "reaffirmation and endorsement" of continuing U.S. policy toward China.
Thornton told the press that she was planning to visit Taiwan in December and was looking forward to the trip.
In Taipei, a Taiwanese national security expert told CNA that reading through Pence's speech, he thought at a time of rising friction between the U.S. and China, Taiwan had a good chance to further forge closer ties with the U.S.
The expert, who asked not to be named, said Taiwan was able to take advantage of its strategic role in global politics, and while the country was faced with rising pressure from China, it remained committed to the value of democracy, which has been recognized by the U.S.