U.S. senators introduce bill to help Taiwan keep diplomatic allies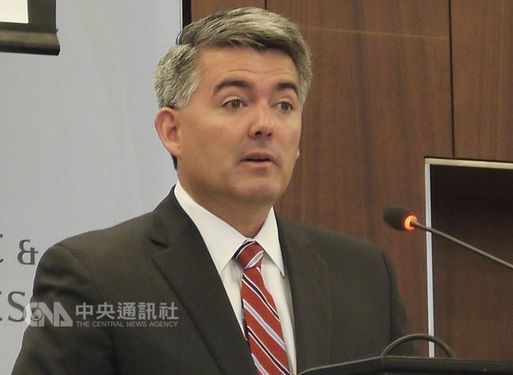 Taipei, Sept. 6 (CNA) Four U.S. senators have introduced legislation to ask Washington to help Taipei keep its existing 17 diplomatic allies after five of its allies over the past two-and- a-half years have severed ties.
Senators Cory Gardner, Ed Markey, Marco Rubio and Bob Menendez introduced the Taiwan Allies International Protection and Enhancement Initiative (TAIPEI) Act, which is intended to strengthen Taiwan's standing around the world and comes in response to several nations breaking official diplomatic ties with Taiwan due to Chinese pressure, according to a press release issued by Gardner.
"The TAIPEI Act requires a U.S. strategy to engage with governments around the world to support Taiwan's diplomatic recognition or strengthen unofficial ties with Taiwan," according to the press release.
It also authorizes the U.S. State Department to downgrade U.S. relations with any government that takes adverse action with regard to Taiwan. This includes suspending or altering U.S. foreign assistance such as military financing to governments that take adverse action with regard to Taiwan, it noted.
"This bipartisan legislation demands a whole-of-government approach to stand up to China's bullying tactics against Taiwan, and will send a strong message to those nations considering siding with China over Taiwan that there will be consequences for such actions," Gardner was quoted as saying in the press release.
"Beijing is promising paydays to governments to entice them to cut diplomatic relations with Taiwan," said Markey. "Without a coherent U.S. strategy to push back, Taiwan's official partners might drop from 17 to zero. We must stand up for our friends in Taiwan."
Asked to comment on the issue in Taipei Thursday, Ministry of Foreign Affairs spokesman Andrew Lee (李憲章) expressed gratitude for the senators' long-term support for Taiwan. Taiwan has lost five diplomatic allies since President Tsai Ing-wen (蔡英文) took office in May 2016, the most recent one being El Salvador last month.
At that time, a U.S. State Department spokesperson said that El Salvador's decision to change allegiance to Beijing from Taipei was disappointing.
"Although we recognize the sovereign right of every country to determine its diplomatic relations, we are deeply disappointed by this decision," the spokesperson said.
"We are reviewing our relationship with El Salvador following this decision," the spokesperson added.