President Tsai touts closer links with Guatemala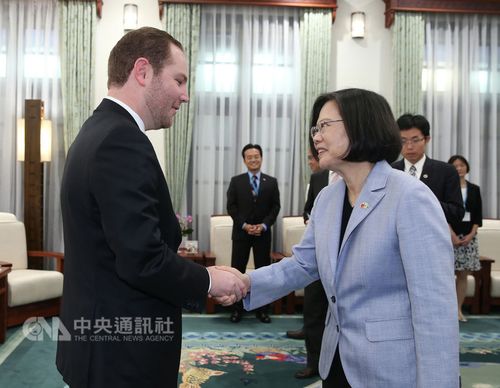 Taipei, Sept. 5 (CNA) Taiwan's collaborative programs in infrastructure construction, medical services and education in Guatemala, as well as visits by high-ranking officials in recent years have helped relations between the two countries become closer that ever before, President Tsai Ing-wen (蔡英文) said Wednesday.
Tsai was speaking to Álvaro Arzú Escobar, president of the Congress of Guatemala, at the Presidential Office. She also praised the Guatemalan Congress as an important supporter of Taiwan-Guatemala relations.
At the meeting, Tsai spoke of the efforts made since her first visit to Guatemala as Taiwan's president in January 2017, to promote economic and trade links between the two countries, including sending investment and procurement delegations to the Central American ally.
Over the past year the two countries have gained much from their collaboration in the areas of infrastructure, medical services and education, Tsai said, mentioning the renovation of a sea turtle conservation center in Guatemala last month with the assistance of the Taiwanese technical mission in that country.
The renewed center will not just create economic benefits by attracting more tourists, it will also help promote the sustainable development of marine resources, Tsai said.
Tsai also said that both the cooperative links and visits by high-ranking officials have helped to lift bilateral relations to new heights.
Arzú is on a five-day visit to Taiwan from Sept. 2-6.