15 allies propose Taiwan's presence as WHA observer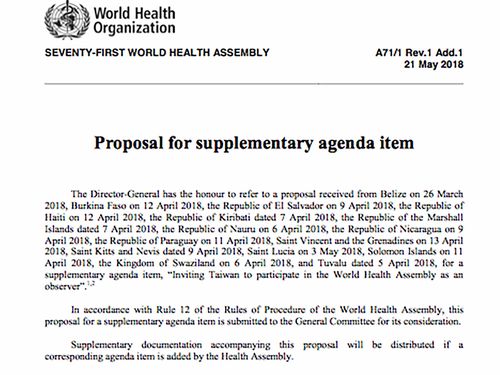 Geneva, May 21 (CNA) Fifteen member-states of the World Health Organization (WHO) have proposed putting the issue of Taiwan's participation as an observer in the World Health Assembly (WHA) on the agenda of the assembly's 71st session, which opened Monday in Geneva, Switzerland.
The proposers, all of which are Taiwan's diplomatic allies, requested a supplementary agenda item, "inviting Taiwan to participate in the WHA as an observer," which was submitted to the General Committee for its consideration.
These countries comprise Belize, Burkina Faso, El Salvador, Haiti, Kiribati, the Marshall Islands, Nauru, Nicaragua, Paraguay, Saint Vincent and the Grenadines, Saint Kitts and Nevis, Saint Lucia, the Solomon Islands, Swaziland and Tuvalu, according to the WHO.
Taiwan was not invited to attend the annual WHA this year, the second year it has been blocked from the event due to China's obstruction.
Taiwan started in 1997 seeking an invitation to the WHA, the decision-making body of the WHO, and was finally invited as an observer in 2009, under a previous Kuomintang administration that was considered by Beijing to be friendly toward China.
From 2009 to 2016, the country was accorded WHA observer status. But after a Democratic Progressive Party administration -- which is less friendly toward China -- took power in 2016, Beijing blocked WHA invitations to Taiwan in 2017 and again in 2018.