Taiwan welcomes Japan as investment partner in Southeast Asia: VP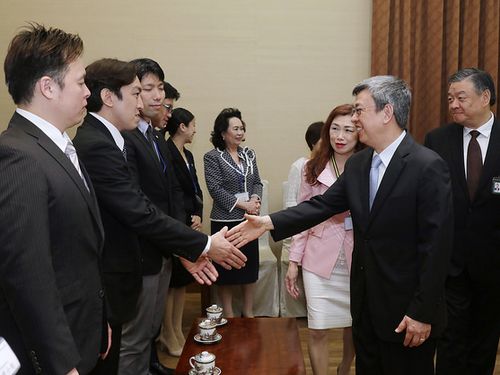 Taipei, May 8 (CNA) Taiwan looks forward to advancing cooperation with Japan and welcomes the country as an investment partner in Southeast Asia, Vice President Chen Chien-jen (陳建仁) said Tuesday.
Speaking with a visiting delegation of Taiwanese expatriates from Japan headed by Yokohama Overseas Chinese Association head Hung Yi-fen (洪益芬), Chen described Japan as an important ally and said the two sides are very close in terms of culture and their economies.
Meanwhile, the vice president explained that the government's "New Southbound Policy" seeks to enhance trade, tourism and investment opportunities between Taiwan and countries in South Asia and Southeast Asia, as well as Australia and New Zealand.
Chen said Taiwan and Japan should work together to broaden exchanges with those countries.
Taiwan's technology supply chain, combined with Japan's expertise in research and development, could help to create win-win scenarios for all parties, he added.
At the same time as Taiwan is seeking to join the Comprehensive and Progressive Agreement for Trans-Pacific Partnership (CPTPP), and promoting its "5+2 Industrial Innovation Program," Chen said the government hopes Taiwanese expatriates will use their influence to help Taiwan forge an economic partnership agreement with Japan, as well as voice support for the country on the international stage.
The vice president also expressed his gratitude to the association which he said has steadfastly supported the government of the Republic of China since it was first established in Yokohama in 1946.
He said bilateral relations moved a step closer when the Japanese government changed the name of its representative office in Taiwan from the "Interchange Association, Japan" to the "Japan-Taiwan Exchange Association" at the beginning of this year.
Lastly, Chen said the government attaches great importance to Taiwanese expatriates living overseas, and looks forward to their continued support in the future.