Public split on president's policy on cross-strait relations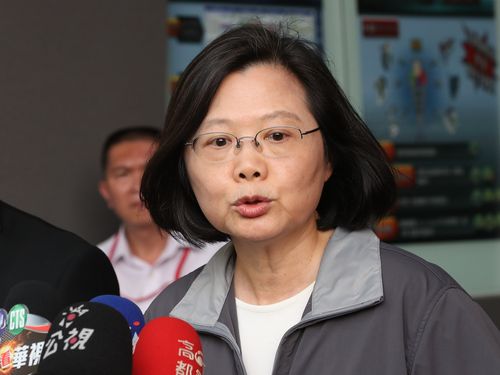 Taipei, April 27 (CNA) Approval of President Tsai Ing-wen's (蔡英文) handling of cross-Taiwan Strait relations was split almost 50-50 in the latest poll published by the Taiwan Cross-Strait Policy Association Friday, signaling a clear divide in how the public views her policy decisions.
During a press conference, the association released the results of its survey conducted April 23-24, which found 49.5 percent of its 1,070 adult respondents in favor of Tsai's cross-strait policies while 44.7 percent were not.
The nearly 50-50 split extended to approval of Tsai's performance on national defense and foreign affairs, which saw 47.1 percent approving and 45.4 percent disapproving, and 49.5 percent approving and 46 percent disapproving, respectively, the results show.
Overall, the president enjoyed a 46 percent approval rating compared to a 49.2 percent disapproval rating, which is slightly lower than Premier Lai Ching-te's (賴清德) approval rating of 49 percent.
A detailed analysis of the results by the association found that there was a clear divide along political lines.
For instance, the poll found those who identified as Democratic Progressive Party members reporting an 89 percent approval rating for how Tsai is handling national defense, while those who identified as Kuomintang members reported an 89 percent disapproval rate on the same issue.
Taiwan Thinktank researcher Tung Li-wen (董立文) said that the political divide is linked to how China is advertising itself.
China, with its carrot-and-stick approach, is controlling the narrative of Taiwanese politics, which Tung said is resulting in a polarization in Taiwan that should not be happening.
The survey had a confidence level of 95 percent, with a margin of error of plus or minus 3.0 percentage points.