Clashes highlight protest against labor law amendment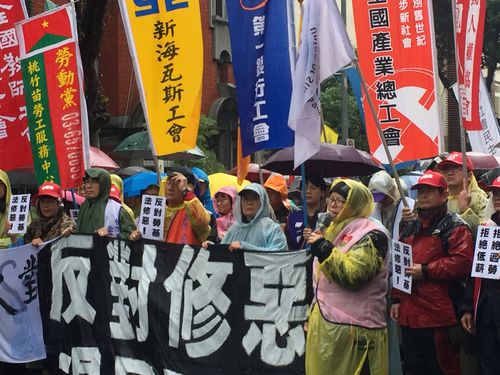 Taipei, Jan. 8 (CNA) Taiwanese labor groups staged a rally outside the Legislative Yuan Monday in an attempt to thwart the passage of an amendment to the Labor Standards Act that they described as "the worst in history."
Clashes broke out between protesters and the police when the groups were trying to set up a canopy for protesters to take shelter from rain, only to see a truck carrying the equipment stopped by the police.
Hundreds of people led by the "May 1 Action Coalition" -- an alliance of trade unions and labor-rights advocacy groups -- gathered to voice their anger against the government, which plans to push through the amendment by Wednesday.
"We have only one demand. The amendment is the worst in history. We will not let it be rammed through by the Democratic Progressive Party (DPP)," said Taipei City Confederation of Trade Unions Executive Director Chen Shu-lun (陳淑綸).
The protesters alleged that the amendment is aimed at giving employers the power to force their workers to work for 12 days in a row, with a mandatory break of just eight hours between shifts.
Currently, employees are given a mandatory day off in any seven-day period, while the amount of rest time required between shifts is 11 hours.
In the statement, the May 1 Action Coalition said that the proposed revisions "indicate a clear choice of the DPP to lean toward the employers."
"If passed, this amendment will exacerbate the badly overworked and underpaid working conditions facing workers in virtually all sectors in Taiwan," it said.
"It's easy for the DPP to pass the amendment because it has only five proposed articles, but we still have to stand against it," said Cheng Ya-hui (鄭雅惠), a trade union representative.
According to the protest organizers, the government has recently resorted to pushing the amendment through violent means, including DPP lawmakers physically dragging away dissenting legislators at legislative committee meetings, the use of police force against protesters, and surrounding official buildings with razor-wire barricades, which have "ruthlessly undermined our precious democracy."
The protesters were preparing to camp outside the Legislative Yuan overnight to protest passage of the amendment.
"This fight against the DPP's Labor Standards Acts amendment is not only a fight to defend the most basic subsistence standards of Taiwanese workers, it is also a fight for the preservation of our basic democratic rights," they said.
The groups also called upon all DPP politicians: "Do not forget what you said before we elected you. Do not forget who voted for you. The people have entrusted you with political power; the people can also take it away!"