Premier Lai sees no immediate fallout from pro-independence comment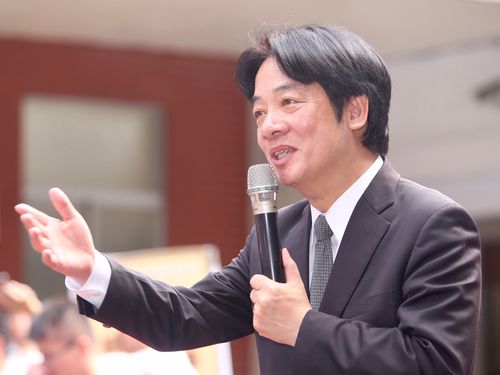 Taipei, Sept. 29 (CNA) Premier Lai Ching-te (賴清德) said Friday that his open support for Taiwan independence is unlikely to become an issue in the upcoming talks between China and the United States.
Speaking to the press on the sidelines of a legislative questioning session, Lai said that when he recently expressed his stance on the Taiwan independence issue, he was stating a fact and speaking for the majority of people in the county.
In response to reporters' questions, he said his recent open declaration of his status as a "pro-Taiwan independence politician" was not likely to result in any immediate decisions by the U.S. that would further squeeze Taiwan's international space.
He was responding to questions about whether his comment would give China an opening in its upcoming talks with the U.S. to push for a new "one China" policy framework that would further restrict Taiwan's efforts to participate in the international community.
On Tuesday, while delivering his first policy report to the Legislature, Lai said his status as a "pro-Taiwan independence politician" would remain unchanged, regardless of his office, and that it was not antithetical to his "pro-China, loving Taiwan" stance.
He told reporters Friday that the comment was a respectful response to lawmakers' questions and represented his personal political views.
In fact, Lai said, lawmakers should have been focusing on the Cabinet's policies rather than his personal political views.
Following the premier's comment on Tuesday, local political commentators have been saying that it could not have come at a worse time, given the cold relations between Taiwan and China since the Democratic Progressive Party came to power in May 2016 and the fact that China and the U.S. are about to discuss plans for bilateral ties over the next 50 years.
According to the commentators, when U.S. President Donald Trump visits China in November, the discussions are likely to include the "one China" policy, with Beijing pushing for changes that would tighten restrictions on Taiwan on the international stage, using Lai's comment as an opening.
However, the U.S. State Department's East Asian and Pacific Affairs Bureau said Wednesday that under the terms of three communiques signed between Beijing and Washington 1972-1982 and the Taiwan Relations Act of 1979, the U.S. was maintaining its one China policy, which recognizes that there is only one state called China.
The U.S. also continues to encourage China and Taiwan to pursue peaceful means of resolving their differences and building a cordial cross strait relationship, said Grace Choi, a spokesperson for the bureau.
On Thursday, Taiwan's Mainland Affairs Council (MAC) said the public should not read too much into Lai's comment.
President Tsai Ing-wen (蔡英文) administration's stance on maintaining the status quo across the Taiwan Strait has not changed and does not conflict with Lai's views on the issue, the MAC said.
According to the MAC, a key element of the cross-strait status quo is that the Republic of China (Taiwan) is an independent, sovereign country, which is an indisputable fact.
Since Tsai took office last year, China has frozen official talks with Taiwan because her government refuses to endorse the "1992 consensus," a tacit agreement that essentially implies China and Taiwan are part of "one China," with each side free to interpret what that actually means.