President's rating hits new low, Taipei mayor liked by 70%: poll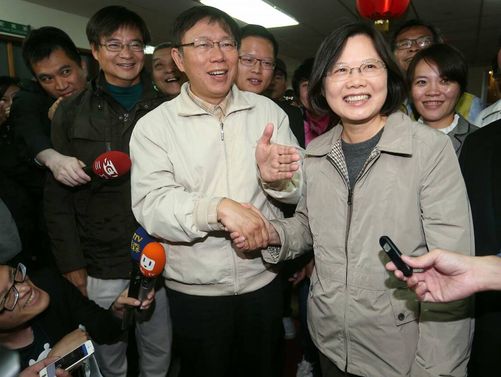 Taipei, Aug. 14 (CNA) The approval rating of President Tsai Ing-wen (蔡英文) fell to a record low in the Taiwanese Public Opinion Foundation's monthly survey that was published Monday, while Taipei Mayor Ko Wen-je (柯文哲) drew approval from 70 percent of the respondents in the same poll.
In the survey, 29.8 percent of the respondents said they approve of the way Tsai is leading the country, the lowest level since her inauguration in May 2016. In contrast, 50 percent of the respondents expressed dissatisfaction.
"For the first time, Tsai's approval rating was 20-something, marking a historic low" since the regular poll of her performance began on May 20, 2016 when she took office, said You Ying-lung (游盈隆), chairman of the foundation.
A drop of 40 percentage points has been recorded, You said, attributing the plunging rating to what he called "systematic complications" that have developed in Tsai's administration.
Such a problem could be rectified with an overall reshuffle of the Cabinet headed by Premier Lin Chuan (林全), You said. However, he went on, "a Cabinet reshuffle is what Tsai is the most unwilling to face."
Therefore, there is no reason to expect Tsai's approval rating to rise in the near future, the pollster concluded.
The survey shows that most respondents -- 58 percent -- were not satisfied with Tsai's performance in pushing for judicial reforms. In addition, 45 percent do not support the government's mammoth Forward-looking Infrastructure Development Project.
Presidential Office spokesman Alex Huang (黃重諺) declined to comment on the dropping approval rating.
In the same poll, however, Ko -- widely regarded as an outspoken maverick -- astonished You, who took charge of the questionnaire design, results analysis, report compiling and interpretation of the meaning of public policies.
The survey results indicate that nearly 70 percent of the respondents appreciate Ko, while 66 percent have confidence that he can make the 2017 Taipei Universiade slated for Aug. 19-31 into a success.
"For any political figure, a nearly 70 percent appreciation rating is a political asset to be dreamed of," You said.
Such a high degree of approval is particularly rare in Taiwan's political environment, in which constant blue-green political infighting is the norm, he added.
The poll was conducted Aug. 7-8 among randomly selected people aged 20 or older nationwide. A total of 1,074 valid samples were collected, with a margin of error of 2.99 percentage points.