Taiwan targets 20% of electricity from renewables by 2025: president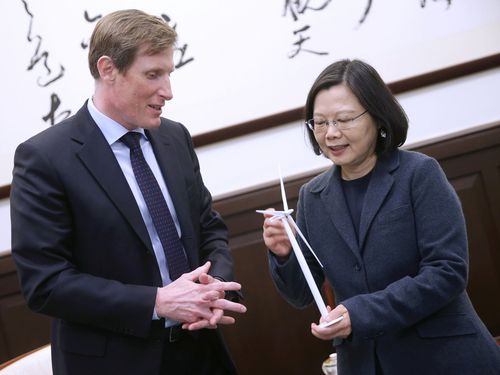 Taipei, March 9 (CNA) President Tsai Ing-wen (蔡英文) said on Thursday the government aims to increase the amount of electricity generated from renewable sources nationwide to 20 percent of total supply by 2025.
In 2016, electricity produced from renewables accounted for a record 4.8 percent, but the figure is still too low, Tsai said during a meeting with Samuel Leupold, executive vice president of wind power at Dong Energy of Denmark.
The president said a consensus has been reached in Taiwanese society that steps should be taken to gradually reduce the nation's dependence on nuclear and fossil fuels, while actively developing alternative energy sources. This was also a promise made during her presidential campaign, Tsai added.
To achieve that goal, the government has drafted a detailed policy approach that includes a plan to set up an integrated wind farm zone, she said.
The president expressed confidence that Taiwan will succeed in its efforts to transform the nation's energy mix by working with green energy developers that have international experience, such as Dong Energy.
Dong Energy, which opened an office in Taiwan last November, is planning to build four offshore wind farms in the country before exploring further offshore wind opportunities in the Asia-Pacific region, according to the Ministry of Economic Affairs.
(By Sophia Yeh and Y.F. Low)ENDITEM/AW