Chiang Kai-shek Memorial Hall closed on Feb. 28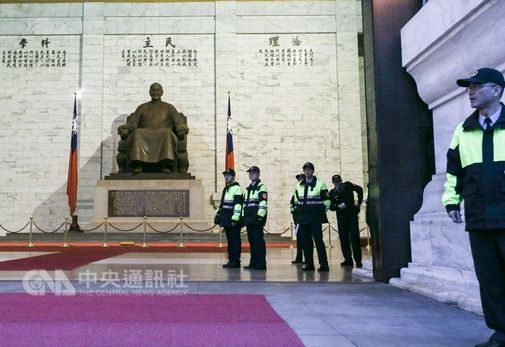 Taipei, Feb. 27 (CNA) The Chiang Kai-shek Memorial Hall will be closed to the public on Feb. 28 out of respect for 228 Incident memorial activities and to prevent social confrontation, Culture Minister Cheng Li-chiun (鄭麗君) said on Monday.
Before the completion of the enactment and implementation of transitional justice, the hall will be closed on Feb. 28 in the years to come, Cheng added.
The closure follows comments Cheng made on Feb. 25 as the Republic of China (Taiwan) prepared to mark the 70th anniversary of the 228 Incident three days later, in which she announced a series of measures to push for transitional justice, including transforming the hall, which is managed by her ministry.
Cheng said she understood that there are different ideas in society on how to transform the hall, and indicated that the Ministry of Culture will hold discussions on the issue, but she hoped all sectors of society could hold a rational dialogue on the issue.
Cheng also urged the public to remember the victims of the 228 Incident and squarely face historical facts.
The 228 Incident was triggered by a clash between government officials and an illegal cigarette vendor in Taipei on Feb. 27, 1947. The event quickly turned into an anti-government uprising and was put down by the Kuomintang (KMT) government, which was then still based in China.
An estimated 18,000 to 28,000 people were killed during the crackdown, which lasted into early May, according to an investigation conducted by a Cabinet commission in 1992.
Chiang was chairman of the Nationalist Government from 1943-48 and president of the ROC from 1948-1975.
Chiang also had thousands of people living in Taiwan arrested or killed for political reasons during the "White Terror" era in the decades after 1949, when his administration fell to defeat in China's civil war and retreated to Taiwan.
The memorial hall, which occupies a 250,000-square-meter area in Taipei's affluent Zhongzheng District, was opened to the public in 1980.
In presenting her ideas for transitional justice, Cheng also advocated drafting revisions of the hall's organic law within six months, and said a possible name change, the hall's honor guards and public displays, and whether or not to remove the statues of the late president "could all be discussed."
Meanwhile, there were reports of vandalism of statues of the late president in the days leading up to the Feb. 28 Incident memorial activities, as has occurred in past years.
Local media reported that cases of vandalism have occurred since Free Taiwan Party Chairman Tsai Ting-kuey (蔡丁貴) launched a drive for people to rally at the hall's Liberty Square on Feb. 28 to take part in an activity to oppose authoritarian symbols and topple Chiang statues.