Kaohsiung, Panama City forge sister city relations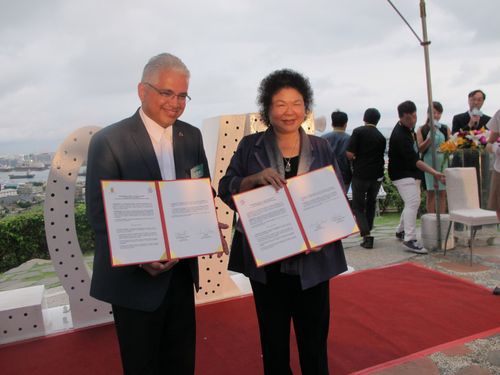 Kaohsiung, Sept. 5 (CNA) Southern Taiwan's Kaohsiung City forged sister city ties with Panama City on Monday to boost mutual cooperation and exchanges in the cultural, trade and economic areas, city officials said.
Kaohsiung Mayor Chen Chu (陳菊) and her Panamanian counterpart, Jose Blandon, signed the agreement for the sisterhood pact here. The treaty officially makes Panama City the 29th sister city of Kaohsiung.
During the signing ceremony, Chen praised Panama as an important ally of Taiwan in Latin America. She expressed hope that in the future, the two port cities will help each other in the promotion of industrial transformation and boost mutual cooperation and exchanges in the areas ranging from port development, exhibition, finance to cultural innovation.
In his address, Blandon, who is on a visit to Kaohsiung for the upcoming 2016 Global Harbor Cities Forum, said he hopes the two cities will engage in experience sharing and exchanges more frequently in the future.
The three-day forum, which will open on Tuesday, was initiated by the Kaohsiung City Government to address the sustainable economic growth of harbor cities. It drew representatives of 49 harbor cities around the world, including Mohamed Shihab, mayor of Malé in Maldives, and Roland Blum, deputy mayor of Marseille, France.
(By Wang Shwu-fen and Elizabeth Hsu)ENDITEM/cs