Taiping Island deserves exclusive economic zone: president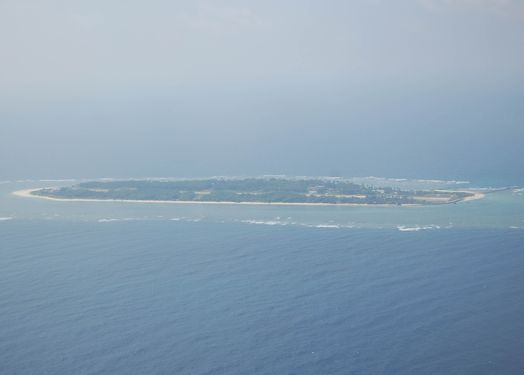 Taipei, May 17 (CNA) President Ma Ying-jeou (馬英九) wrote in a letter published in the Wall Street Journal Monday that a claim by the Philippines that Taiwan-controlled Taiping Island is just a rock in the South China Sea "is patently false."
Ma said that an island must be able to sustain human habitation and economic life in order to claim a continental shelf and an exclusive economic zone (EEZ) of 200 nautical miles, according to Article 121 of the United Nations Convention on the Law of the Sea (UNCLOS). Any rock that doesn't meet these two criteria can only claim territorial waters of 12 nautical miles.
Taiping Island, also known as Itu Aba and covering an area of 0.51 square kilometers, is the largest naturally formed landmass in the Nansha (Spratly) Islands. The island has dense stands of native tropical trees that are over 100 years old and range from 10 to 20 meters tall, and there are historical traces verifying almost a century of human habitation and economic activity on the island, said Ma.
At The Hague, the Philippines is in the middle of an arbitration case against mainland China. As part of its argument, Manila is attempting to downgrade Taiping Island to the status of a mere rock, said Ma.
Ma said he has appealed to "the tribunal regarding Taiping Island" that its decision "should not negate Taiping's true status as a bona fide island with the requisite rights to a continental shelf and EEZ."
The tribunal is expected to hand down its ruling by the end of May. But since Taipei submitted evidence on the island status of Taiping Island and the Philippines submitted a rejoinder April 22, the tribunal might not announce its ruling "until June or July," Senior Associate Justice of the Philippines' Supreme Court Antonio Carpio was quoted as saying in a TV program broadcast Monday in Manila.
Ma also noted that Japan detained a Taiwan-registered fishing boat operating outside Okinotori's territorial waters April 26, based on its claim that Okinotori is an island and thus entitled to a continental shelf and EEZ.
Ma said Okinotori reef consists of two rocks, with a total area of only nine square meters -- about the size of two king-size beds -- thus can only claim 12 nautical miles of territorial waters, according to UNCLOS.
Ma said he dispatched coast guard vessels May 1 to the waters around Okinotori to protect Taiwanese fishermen's rights, and called for the international community not to turn a blind eye to Japan's illegal maritime claims associated with Okinotori reef.
(By Claudia Liu and Kuo Chung-han)ENDITEM/J