Cross-strait status quo is 'one China, same interpretation': KMT's Hung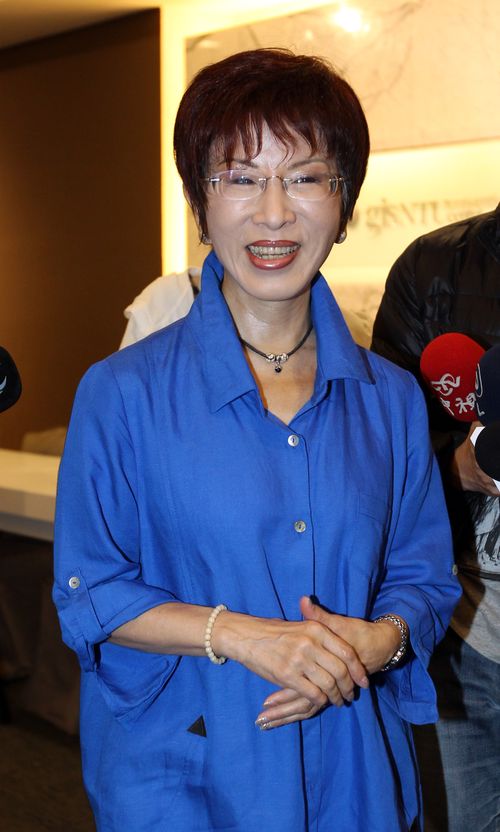 Taipei, May 6 (CNA) The ruling Kuomintang's presidential aspirant waded into Taiwan's top political issue Wednesday, saying she would use the term "one China, same interpretation" to describe the status quo of relations between Taiwan and China.
Hung Hsiu-chu, a vice chairwoman of the KMT, told a university audience that the de jure status quo of cross-Taiwan Strait ties is "overlapping sovereignty claims by two constitutional governments in two separate jurisdictions."
In other words, she said, there are two constitutional governments inside "the entire China," Hung said in speech titled "Whither Taiwan?" at National Taiwan University.
In a question and answer session, a student raised doubts about Hung's proposal for signing a peace pact with China, asking why China would sign such an accord when it has not given up its claim of sovereignty over Taiwan.
"If we don't put forward such a proposal and start negotiating with China, how can we know we will not achieve any results?" Hung replied.
If fact, Hung said, a cross-strait peace treaty is not an original idea, since it had been broached by two former presidents, Lee Teng-hui and Chen Shui-bian, and the incumbent Ma Ying-jeou.
Taiwan society is now so immersed in populism that anyone who dares to propose a peace pact with China would "be beaten to death even before the proposal is raised," she said.
Many politicians dare not put forward such a proposal because they want to gain votes, Hung said.
"I'm not at all afraid of being smeared," she said. "I just hope everyone here would seriously and candidly discuss this issue."
She said the Chinese leadership should "put themselves in Taiwanese shoes and think from Taiwanese perspective" about unifying the two sides of the strait into "one China."
"What kind of future would await us in a 'one China'?" she said.
It would not be in the best interest of the the people on both sides of the Taiwan Strait if the two governments keep walking on a confrontational path, Hung said.
Hung has declared her intention to seek the KMT's nomination for the 2016 presidential election. The only other KMT aspirant so far is former Health Minister Yaung Chih-liang.