Free Taiwan more in China's interest than unification: Taipei mayor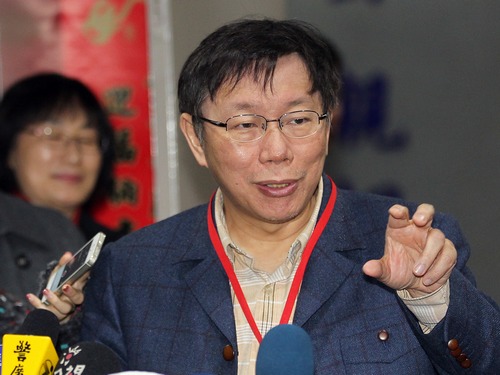 Washington, Jan. 30 (CNA) In his first high-profile interview with Western media, Taipei's new mayor Ko Wen-je (柯文哲) said that keeping Taiwan free and democratic and improving ties with China is more important than unification.
Ko, a surgeon who is rapidly earning a reputation as one of Taiwan's most outspoken politicians, told U.S. magazine Foreign Policy in an article published online Thursday that he was open to more exchanges with China, but stressed the importance of protecting Taiwan's autonomy.
"China's a problem that we must face, no matter (whether) you like it or not," he said bluntly.
As for Taiwan's role, "we have to convince mainland China that a free and democratic Taiwan is more in China's interest than reunification," the mayor said.
"People say the Chinese people do not deserve universal suffrage," he said, referring to the oft repeated justification for China's one-party rule, "there have been five presidential elections in Taiwan already."
He continued: "People say that the Chinese people are not civic-minded; (but) take a look at Taiwan's subway. It's cleaner than the New York subway."
On cross-strait relations, Ko said: "If you ask me about the one-China policy, my question is, what is one China? You have to tell me what one China looks like."
"Cooperation is more important than reunification. If reunification is achieved without cooperation, it will be meaningless. We have to mutually know, understand, respect, each other; then finally we can cooperate with each other," he said.
He added that China's ability to keep its people fed is "something we should respect," but he also said that an Internet commotion of a photo of him riding on the Taipei Metro -- instead of being chauffeured in a private vehicle -- shows a culture gap between the two sides.
"I once said that when more than 99 percent of Chinese people close the doors while doing their business in bathrooms, we can start talking about reunification," he joked.
"This hurt the feelings of many Chinese people, but a cultural gap (between mainland China and Taiwan) does exist. There's nothing wrong about officials taking the subway. Why is this unusual?"
Ko, the first mayor of the capital city in decades that bears no affiliation with any political party, also said with no uncertainty that he would "not run" for president when asked about a possible run in 2016.
In the mean time, he hopes "Taipei City will be a demilitarized zone between the blue and green parties," a reference to the Kuomintang-led blue coalition and Democratic Progressive Party-led green coalition. "I will try to keep neutral."
Perhaps the most controversial remarks he made, though, were about culture. Ko ranked various cultures in Asian countries according their levels of "advancement," positing that in the Chinese-speaking world, "the longer its colonization, the more advanced a place is."
"It's rather embarrassing," he said, asserting "Singapore is better than Hong Kong; Hong Kong is better than Taiwan; Taiwan is better than the mainland."
"Even though mainland China's GDP is higher than that of Vietnam, if you ask me about culture, the Vietnamese culture is superior," he said.
Ko's interview was conducted in a combination of Chinese and English at Taipei City Hall on Jan. 20.
(By Tony Liao and Lilian Wu)enditem/WH
Related:●Foreign Policy: Taipei's Fiery New Mayor Knows Whose Culture Is Best