Defense Ministry's new headquarters officially opens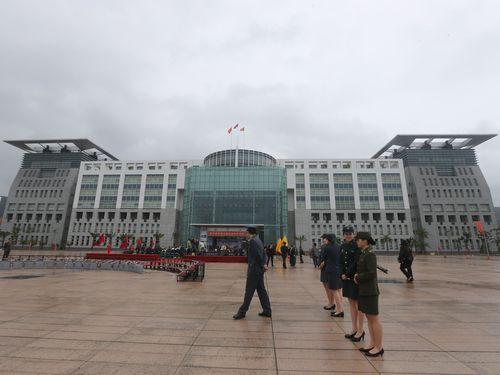 Taipei, Dec. 27 (CNA) A new compound that houses the Ministry of National Defense (MND) was officially opened at a ceremony in Taipei's Dazhi area Saturday, with a focus on improved security.
The complex is modeled on the design of the Pentagon in the United States but has even more advanced security features, said ministry spokesman Maj. Gen. Luo Shou-he.
Some of the features include fingerprint scanners that restrict access to certain areas, and sensors that can detect automobiles in unauthorized areas and any vehicles that may be carrying explosives, according to Huang Te-hsiao, head of the Construction and Real Estate Division of the MND's Armaments Bureau.
There are also bollards on the compound that block unauthorized vehicles, Huang said.
[CNA photo Dec. 27, 2014]
At the ceremony, Defense Minister Yen Ming said the opening of the new headquarters at this time is significant because 2014 is the 90th founding anniversary of the Republic of China Military Academy.
Constructed at a cost of NT$15.8 billion (US$516.5 million), the sprawling 19.5-hectare complex houses office buildings and dormitories for military officers.
It also has other facilities such as barber shops, a post office, conference hall and sports center, which provide comprehensive services and amenities for the 3,000 military personnel stationed there.
[CNA photo Dec. 8, 2014]
The compound has a variety of eco-friendly features, including stone walls and aluminum and low-emissivity glass exterior panels to help keep it cool in summer.
To reduce peak-hour energy consumption, central air conditioning is provided by an ice storage system that produces ice at night for use as a coolant during the day.
The structure took 18 years to complete, from planning to inauguration. Construction work on the compound began in 2003.
[CNA photo Dec. 27, 2014]
The quiet Dazhi area, located on the northern side of the Keelung River, already hosts several government buildings and military compounds, including the Air Force Command and Navy Command headquarters.
Huang said the area can be designated as a special defense district, which would help the ministry save manpower and maintenance costs.
(By Lu Hsin-hui, Ted Chen and Christie Chen)ENDITEM/pc