Economic minister resolved on departure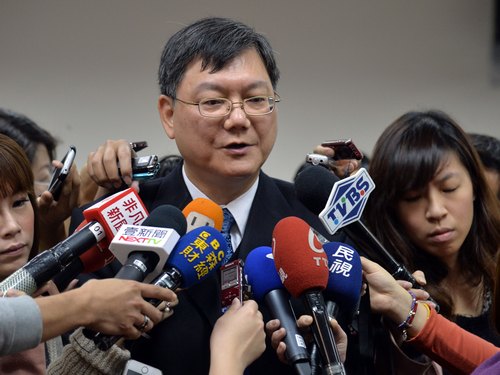 Taipei, Dec. 1 (CNA) Economics Minister Duh Tyzz-jiun reiterated his decision to rule out the possibility of continuing in his post Monday, amid an en masse resignation of Cabinet-level officials following the devastating defeat suffered by the ruling Kuomingtang (KMT) in nationwide local government elections.
The executive branch of the government will now enter a caretaker stage while President Ma Ying-jeou names a new premier and Cabinet members.
Duh stated that it will now be up to his replacement to carry out the duties of economic minister and oversee the continuation of important missions such as the establishment of free trade agreements and cross-Taiwan Strait accords on trade in goods and services.
Duh, however, noted that although he remains concerned about the future of the nation, he respects the decisions and opinions of the populace, as reflected by the outcome of the election.
According to Duh, the election results are not expected to affect cross-strait negotiations.
Meanwhile, due to the absence of numerous officials as a result of the Cabinet en masse resignation, an economics committee meeting at the Legislative Yuan to review the 2015 budget for the state-run Taiwan Sugar Co. was unable to be caried out Monday.
Chen Ming-wen, an opposition party lawmaker, urged all budget assessments to be halted in line with the Constitution and in the interests of the public.
Duh only took the baton from former Economics Minister Chang Chia-juch Aug. 10. Chang resigned shortly after a series of deadly gas-leak blasts in Kaohsiung.
(By Huang Chiao-wen and Ted Chen)ENDITEM/J
Related stories:●Nov. 30: Cross-strait trade talks hang in the balance as economics minister quits●Nov. 30: KMT's setback signals rocky cross-strait relations: scholars