Post-election situation in Taiwan being closely watched: Scholars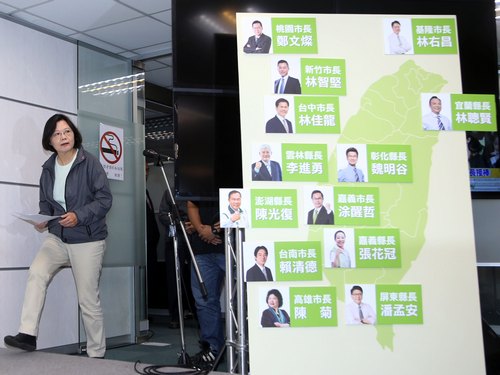 (Click HERE for our special election site)
Taipei, Nov. 30 (CNA) The situation in Taiwan after the ruling Kuomintang (KMT) suffered a major setback in Saturday's local government elections is being closely watched by other countries, local scholars said Sunday.
Huang Kwei-bo, professor at the Department of Diplomacy at National Chengchi University, said that after the KMT's significant defeat, other countries will start studying the possibility of the Democratic Progressive Party (DPP) regaining power in the central government in 2016.
The KMT should also pay attention to finding a solution to the possible ripples in cross-Taiwan Strait relations that might affect Taiwan's diplomatic allies' interest, he said.
Chen I-hsin, professor at the Graduate Institute of American Institute of the Tamkang University, said that although Premier Jiang Yi-huah and KMT Secretary-General Tseng Yung-chuan have resigned for the KMT's losses, the KMT still needs to reflect on its faults and cultivate new blood in response to the 2016 presidential election.
In terms of foreign relations, Chen contended that the United States will now have greater interest in Tsai Ing-wen, chairwoman of the DPP, following her party's sweeping victory in Saturday's elections.
The DPP won 13 seats, far better than the KMT's six (down from the currently held 15 seats), in Taiwan's 22 counties and cities after Saturday's polls. The KMT only managed to narrowly secure New Taipei in the six special municipalities, while the DPP swept in Taoyuan, Taichung, Tainan and Kaohsiung.
Given these circumstances, President Ma Ying-jeou, who is also KMT chairman, must come up with more bold and progressive policies to deal with the post-election debacle, Chen suggested.
Related:●Nov. 30: KMT's setback signals rocky cross-strait relations: scholars