Chen Chu wins 3rd term as Kaohsiung mayor (update)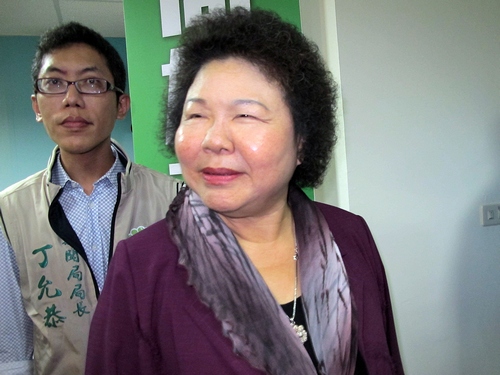 Taipei, Nov. 29 (CNA) Incumbent Kaohsiung Mayor Chen Chu easily won re-election Saturday in the southern municipality that has long been a stronghold of her Democratic Progressive Party (DPP).
Chen's victory over Yang Chiu-hsing of the Kuomintang (KMT) and independent candidate Chou Ko-sheng means she will be mayor for a third time.
The 64-year-old Chen's victory was part of a complete DPP sweep of the races for control of all of the cities and counties in southern Taiwan, the party's traditional support base.
Yang, 58, a former DPP member who was two-time magistrate of the now-defunct Kaohsiung County, failed to present much of a challenge to the popular incumbent mayor.
Chen won 993,300 votes, or 68.09 percent of the total cast, to 450,647 votes, or 30.89 percent, according to the Central Election Commission. There are about 2.23 million eligible voters registered in southern Taiwan's largest city.
Chen received more votes than any other candidate running in Taiwan's 22 cities and counties in Saturday's elections, even though turnout was only about 66 percent, well below the 72.5 percent turnout in the city's mayoral race in 2010.
"Each vote showed its expectation of a successful transformation of Kaohsiung," Chen said.
"Kaohsiung must be upgraded, must be improved and must be successfully transformed," she said, while vowing to make Kaohsiung better.
Although Chen was able to win the election by a large margin, her campaign team had been worried about the impact of a series of chemical gas explosions in Kaohsiung in late July on her campaign.
Chen was criticized for failing to take timely action to stop the blasts from happening, but she later demonstrated her determination to help the affected residents to get back on their feet.
She also vowed not to allow underground petrochemical pipelines, identified as the cause of the blasts, to be reburied in the disaster area, a move that helped her maintain her support.
After winning re-election, Chen said her top priority will be to deal with the pipelines in the city, hoping that companies in the petrochemical industry will cooperate with the local government to build a safe environment in the city.
Four years ago, Chen also beat Yang in the first election following the merger of Kaohsiung County and Kaohsiung City into the larger special municipality.
Yang ran as an independent then and joined the KMT after losing the election.
In the three-way race that year, Chen won around 821,000 votes, representing only 52.7 percent of the total cast.
(By Wang Shwu-fen and Elaine Hou; click here for a list of results of this year's local elections)ENDITEM/J/WH/ls