Independent candidate Ko Wen-je wins Taipei mayoral election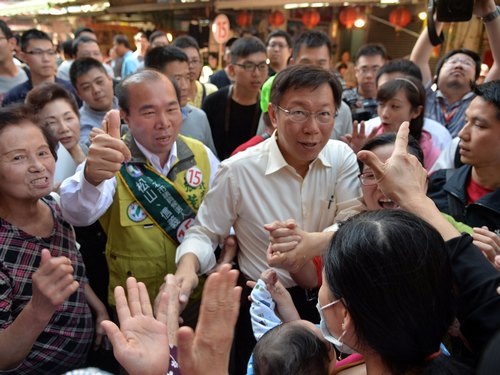 (Click HERE for our special election site)
Taipei, Nov. 29 (CNA) In a blow to the ruling Kuomintang (KMT), independent candidate Ko Wen-je swept to victory Saturday in the Taipei mayoral election, becoming the capital city's first non-KMT mayor in 16 years.
As of 07:15 p.m., Ko had won some 755,000 votes, compared with 553,000 votes won by his KMT opponent Sean Lien, according to vote counts by local media outlets.
Lien, son of former Vice President Lien Chan, had admitted defeat earlier.
Ko, 55, had campaigned on a promise to change the poisoned atmosphere of partisan politics even though his candidacy was endorsed by the opposition Democratic Progressive Party (DPP).
Dubbed "Ko P," meaning "Professor Ko," by his students at National Taiwan University Medical College, the heart surgeon had never played any role in politics until earlier this year.
He will now become Taipei's first non-Kuomintang (KMT) mayor since 1998, when the DPP's Chen Shui-bian failed to win re-election.
Ko, Lien and five other candidates were competing to replace Hau Lung-bin, who will step down in December after serving a maximum two four-year terms.
When he was elected to a second term in 2010, Hau won 797,865 votes.
According to the Central Election Commission, Taipei has a total of nearly 2.15 million eligible voters in the latest mayoral election.
Related:●Nov. 29: Ko pledges open government after winning Taipei mayoral election●Nov. 29: Ko wins Taipei mayoral race with 57 percent of vote