Legislature meets briefly after 3-week suspension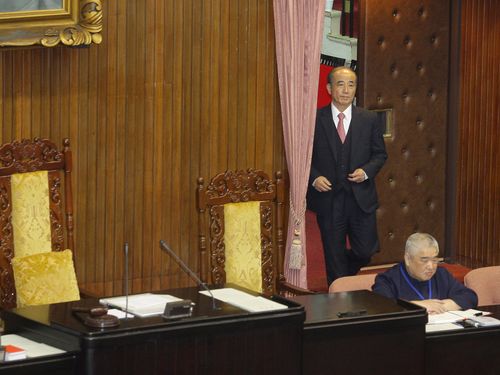 Taipei, April 11 (CNA) Taiwan's Legislature is once again operational as lawmakers met Friday for the first plenary session in over three weeks after a student-led occupation ended late Thursday.
Before the brief meeting was adjourned, legislators of the ruling and opposition parties agreed to refer to committees the nomination of a new state prosecutor-general and a proposed bill on closer oversight of all cross-Taiwan Strait agreements.
Seven different versions of the new legislation, including one each from the administration and the main opposition Democratic Progressive Party (DPP), will soon be reviewed by the Internal Administration Committee.
The nomination of Yen Da-ho as the successor to Huang Shyh-ming will be up for a joint review by the Internal Administration Committee and the Judicial and Organic Laws and Statutes Committee.
Huang resigned last month after being found guilty by a district court of leaking information related to an ongoing investigation that implicated senior DPP lawmaker Ker Chien-ing and Legislative Speaker Wang Jin-pyng.
The floor session called by Wang Friday morning lasted only about seven minutes, but was an important step forward for the legislators who are seeking to resume parliamentary duties and meet the demands of the protesters.
Hundreds of student-led demonstrators had occupied the Legislature's main chamber since March 18 in protest against a trade-in-services agreement with China, forcing a cancelation of the plenary sessions normally held on Tuesdays and Fridays during that time.
Speaking to reporters outside the Legislature after the meeting, Wang thanked the public for its understanding and support and said he hopes everyone can put aside their differences and be more tolerant of each other
Wang also reiterated that tax-payers' money will not be used to restore or repair the legislative buildings.
There will be further internal discussions on whether the Legislature should press charges against the protesters for their conduct and the damage to public property, he said.
Commenting on the news that the Kuomintang had decided to continue the legal battle to revoke of his party membership, Wang said he "respects the party's decision."
Related stories:●April 11: Police disperse holdouts as legislature gets back to business
[Nearly 100 protesters remain outside the Legislative Yuan, as of noon Friday. CNA photo April 11, 2014]●April 10: Festive rally closes Legislature occupation as protesters head home●April 10: Premier calls 'public draft' of oversight bill unconstitutional
(Click here for a timeline of major developments since the Legislature occupation started March 18.)