Taiwan should deal with student protests wisely: Singapore PM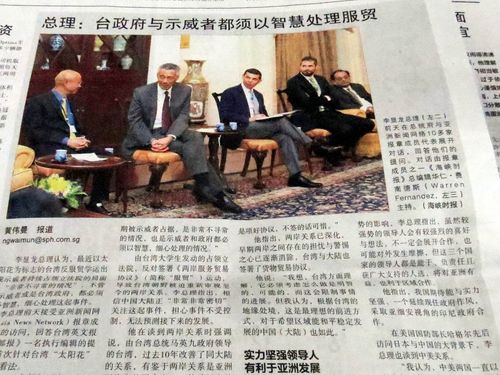 Singapore, April 10 (CNA) Singapore Prime Minister Lee Hsien Loong has said that Taiwan should wisely handle the student-led protests against a controversial trade-in-services agreement with China, according to a Singaporean newspaper.
Lee said the students' occupation of the legislative chamber for three weeks was abnormal and that the protesters and the government should have the wisdom to deal with the incident cautiously, Singapore's Chinese-language Lianhe Zaobao reported Thursday.
Lee made the remarks on April 8 during a meeting with the editors-in-chief and publishers of 17 English-language newspapers that comprise the Asia News Network.
His comments, his first on the recent protests in Taiwan, were reported on Page 12 of the daily.
Lee said that every country and region has a Constitution, laws and due process that they follow. He said China has been watching the student movement in Taiwan "very, very closely" and has been concerned about unpredictable developments should it get out of control.
Since President Ma Ying-jeou took office in 2008, Taiwan has made great strides in improving cross-Taiwan Strait relations, Lee noted, adding that he hopes the ties will continue to improve since they are a factor in Asia's stability.
Asked about his views on Taiwan's controversial trade-in-services pact with China, Lee said "the cross-strait agreement is a good deal."
It would be a pity if Taiwan does not ratify it, he added.
Taiwan's student demonstrators had been occupying the Legislature's main chamber for three weeks in protest against the trade agreement with China but ended the action Thursday evening.
(Click here for the latest developments since the Legislature occupation started March 18.)