Protesting students break into Executive Yuan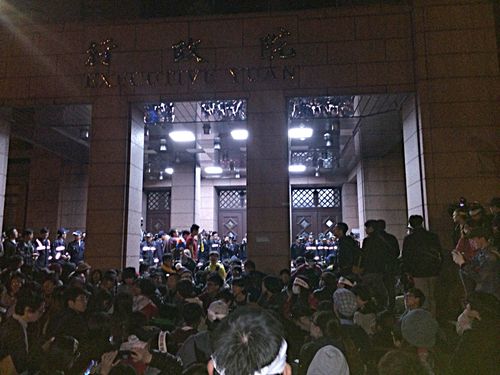 Taipei, March 23 (CNA) Some students in a protest rally against a trade pact with China entered the Executive Yuan from a back door of the building Sunday.
They demanded that President Ma Ying-jeou apologize, Premier Jiang Yi-huah step down and the government withdraw the pact from the Legislature, which is obligated to review the pact.
Reporters at the protest site said they spotted a few of the protesters broke into the Executive Yuan, one block away from the Legislature which has been occupied by protesters – mostly students – since last Tuesday.
(By Liu Chien-pang and Elizabeth Hsu) enditem/sc
Developments so far: (last updated on April 5; for further reports, please click here.)
Video reports:Mass protests held in Taipei on March 30
China reacts to trade pact dispute
Taiwan divided over trade pact
April 5:●Local labor groups voice concerns over free trade impact●Taiwan must give to receive in trade liberalization: industry head●Terry Gou cancels Legislature visit but hopes to talk with students●Protesters hold 'people's assembly' to discuss monitoring draft bill
[Participants of the sit-in outside the Legislative Yuan conduct their own review of bills governing signing of accords with China Saturday. CNA photo April 5, 2014]●2,800 bills stalled as Legislature occupation heads toward 3rd week
April 4:●Civic groups launch petition, parade to urge students to 'go home'●Executive Yuan, police deny dispersion rumors●No U.S. pressure on DPP over student-led protest: party official●Public disappointed at both parties over trade pact dispute: poll●Protesters propose 'civic parliament'●Speaker would not object to eviction of protesters: newspaper●U.S. calls on Taiwan protesters to act 'responsibly'
[Participants of the sit-in outside the Legislative Yuan early Friday. CNA photo April 4, 2014]
April 3:●President open to debate over trade pact: premier●DPP blasts administration proposal for national conference●Premier sets June for national economic conference●46% of Taiwanese identify with student protesters: government poll●Economics minister worried stalled pact may hamper other deal●Student protest impacts equity market performance: FSC head●DPP urged to come clean on China pact as review is stalled●Cabinet approves draft law on oversight of cross-strait pacts (update)
[The podium in the Legislative Yuan's main chamber is decorated as an alter Thursday. CNA photo April 3, 2014]
April 2:●Control Yuan may question premier, police chief on protester removal●Premier warns of 'unprecedented' challenge if pact not enacted●President firm on no withdrawal of China services pact●Student leader: dialogue with president needs trade pact revision●Protests show people's lack of trust in Beijing: culture minister●KMT lawmaker says DPP has 'no more control' of student protesters●Committee session cut short by DPP obstruction●Cabinet vows to act against illegal activities●DPP lawmakers obstruct legislature conference●Pact row could harm Greater China economic integration: ANZ●Police increase presence at Legislature amid new student action
[Inside the Legislative Yuan's main chamber early Wednesday. CNA photo April 2, 2014]
April 1:●Confrontation erupts outside Legislature over China pact (update)●Draft bill to monitor cross-strait pact to be discussed Thursday●KMT caucus to discuss law governing cross-strait agreements Wednesday●DPP rejects KMT's call to end trade pact obstruction●Confrontation erupts outside Legislature amid fears of violence●Think tank reiterates China pact's importance to Taiwan's economy
[Lin Fei-fan (in black), a leading figure in the ongoing occupation of the Legislative Yuan's main chamber since March 18, is interviewed by Al Jazeera English for its program "The Stream" early Tuesday. CNA photo April 1, 2014]
March 31:●Government will not tolerate violence against violence: spokesman●Legislative speaker calls for wisdom to help end stalemate●KMT lawmaker apologizes, says DPP should do the same●Latest meeting on services pact in Legislature fails again ●U.S. stance on protests against pact with China unchanged: AIT●Labor, business groups voice support for trade pact with China●DPP calls U.S. scholar's views of student movement slander●Activist profiles: the leaders of the Sunflower Student Movement
[Taiwanese studying in Germany gather at Berlin's Alexanderplatz Sunday to show their support for ongoing protest in Taiwan against a trade-in-services agreement with China. CNA photo March 31, 2014]
●Undeterred by rally, president urges protesters to end occupation●Officials talk to students about services pact with China●Woman files complaint against student leaders over occupation●Protests against trade pact may slow domestic recovery: Morgan Stanley●Lawmakers' efforts to get back to business off to bad start●Legislative speaker equivocal on how to break impasse
[Around 300 Taiwanese living in the United Kingdom gather at London's Trafalgar Square Sunday to show their support for ongoing protest in Taiwan against a trade-in-services agreement with China. CNA photo March 31, 2014]
March 30:●Failure to pass trade pact could affect young people's future: Ma●Protesters in front of Presidential Office leave peacefully●Services pact will not necessarily benefit Chinese investors●Student leader vows continued occupation of Legislature (update)●Police guard student representatives of protesters●Over 110,000 take to streets to widen protest over China pact (update-2)
●DDP leaders show up at protest rally●Anti-service trade pact protest draws 500 in Hong Kong●Hundreds rally to demand pact protesters go back to school●Tens of thousands take to streets to widen protest over China pact (update)●Government to hold trade pact presentations at universities●Police dispatched, traffic control in place in preparation for protest
[Sun flowers, a symbol of the ongoing student movement against a trade pact with China, are placed on Ketagalan Boulevard in front of the Presidential Office Sunday morning. CNA photo March 29, 2014]
March 29:●Demonstration will continue as planned: student leader●President's response to protesters draws mixed reactions●Business association leaders call on students to end occupation (update)
President Ma's remarks made during Saturday's news conference:●Trade pact has built-in safety measures: president●Trade pact backed by many sectors: president●President backs legalizing scrutiny of cross-strait agreements (update)●President calls news conference to address protesters' demands
Two rallies held by groups opposing protesters' occupation of the Legislature:●White shirts: Students' action does not represent all Taiwanese: groups (update)●Carnations: Hundreds gather to urge student protesters to go home (update)
[Participant of the "Carnation embraces Sun Flower" gather in front of Chiang Kai-shek Memorial Hall in Taipei Saturday. CNA photo March 29, 2014]
●Talk of the Day -- Maneuvers before showdown●University head acting as mediator between government, protesters●Service trade pact with China can boost financial sector: expert●Standoff continues as Legislative speaker cancels talks●DPP heavyweights to attend protest rally●President's press conference over student protest rescheduled
[A protester taking part in a sit-in outside the Legislative Yuan shows an ad paid by groups against a service trade agreement between Taiwan and China in the International New York Times Saturday. CNA photo March 29, 2014]
March 28:●Student leader says mass protest may be canceled if Ma shows goodwill●President Ma still holds out hopes for dialogue with students●Taiwan stands to lose if trade pact not approved: central bank head●ECCT warns of potentially adverse effects of trade pact protests●Saturday counter-protests to urge students to 'go home'●KMT lawmakers to return to Legislature next week●Outspoken Facebook users voice support for police●Latest meeting to end legislative stalemate on pact fails again
[A painting of sun flower sits outside the Legislative Yuan Friday. The student protesters occupying the main legislative chamber since March 18 have chosen the sunflower as the symbol of their movement against the handling of the trade-in-services pact with China. CNA photo March 28, 2014]
●Time for protests to yield to democratic process: New Taipei mayor●Talk of the Day -- Police scrutinized for eviction enforcement●Premier urges 'peace and rationality' ahead of Sunday protest●Jiang rejects two demands by student-led protesters●Premier open to legalizing scrutiny of cross-strait agreements
March 27:●Lawmakers should foot the bill for Legislature damage: protest leader●Occupation movement plans rally in front of Presidential Office●Talk of the Day -- China defends trade-in-services pact with Taiwan●Premier insists on constitutional democracy●Premier instructs officials to reach out to universities●KMT shoots down protesters' condition for ending occupation●Cross-party consultations on China trade pact yield no progress●KMT agrees to return service trade pact to committees
[Outside the Legislative Yuan's chamber, Thursday morning. CNA photo March 27, 2014]
March 26:●Cabinet to review police dispersal of protesters●Dialogue with students can be aired in public: president●Academia Sinica head urges Ma to communicate more over pact●China pact deadlock can be best resolved in Legislature: president (in an interview with The Economist)
●No wiretapping of student protesters: security official●Talk of the Day -- Legislators most to blame for parliamentary paralysis
[A man wearing a headband supporting Taiwan's trade-in-services pact with China sits among a group of people protesting the pact outside the Legislative Yuan. Opponents of the agreement have occupied the Legislature's floor since March 18, drowning out voices supporting the pact. CNA photo March 26, 2014]
●President denies 'no transparency' accusation over China pact●President, protesters repeat calls for talks with 'no preconditions'●Legislature talks over pact to wait until president meets protesters
[National University of Kaohsiung faculty and students hold a candlelight vigil on campus in the southern city Tuesday night, in support of student protesters in Taipei. CNA photo March 26, 2014]
March 25:●Legislative speaker seeking end to standoff over trade pact●Business groups call for tolerance to end standoff over trade pact●Motorcycle gang members turned over to prosecutors●Cross-party talk on services trade pact standoff fails again
[A local cable news channel's satellite vehicle that is parked outside the Legislative Yuan Monday is covered by protesting notes for allegedly "biased" coverage. CNA photo March 25, 2014]
●Student leader of protest at Cabinet building released●Taiwan has no plan on ads campaigning for services pact with China●President willing to talk with student protesters (update)
[Protesters sleeping on Taipei's Qingdao East Road wake up to the eighth day of a sit-in outside the Legislative Yuan Monday. CNA photo March 25, 2014]
●Ex-DPP chairwoman plays down connection with student protesters●Economics minister defends cross-strait pact●Police show relative moderation when dispersing crowd: scholar●U.S. hopes for peaceful, civil debate over China trade pact
[A flare thrown by bikers passing by the sit-in on Qingdao East Road outside the Legislature causes disturbance Monday night. CNA photo March 25, 2014]
March 24:●For the premier's remarks made during today's news conference, please go to: Premier open to talks, expresses 'sadness' over occupation
●For developments regarding the legislative review of the service trade pact: Legislative speaker vows to resolve deadlock over cross-strait pact
●For the ongoing dispute's impact on tourism and other business: Political turmoil could hurt Taiwan tourism: industry leaders
●174 injured in Sunday operation, including 119 police (10:50 p.m.)●Taipei, New Taipei mayors pledge zero tolerance to violence●Prosecutors seek to detain student organizer of Cabinet break-in●Over 40 student groups back 'strike' to oppose China pact●61 arrested during attempted occupation of Executive Yuan●No more backup police to Taipei: Kaohsiung, Tainan●Former premier affected during crackdown at Executive Yuan●Protesters to seek charges against premier for police crackdown●137 sent to hospitals during week-long protest: bureau
[All cleared around the Executive Yuan, on Zhongxiao East Road and Zhongshan South Road in Taipei. CNA photo March 24, 2014]
[The clean-up at the Executive Yuan in Taipei. CNA photo March 24, 2014]
●Executive Yuan protesters dispersed with water cannons
[On Zhongxiao East Road and Zhongshan South Road in Taipei. CNA photo March 24, 2014]
●Students' association calls for 'strike' to support protests●Ill-prepared police jumped by protesters twice●Dozens hospitalized as police remove protesters from Executive Yuan
[Removal of protesters around the Executive Yuan. CNA photo March 24, 2014]
●Police begin to disperse protesters at Executive Yuan
(CNA photo March 24, 2014)●Executive Yuan main building cleared of protesters●Official denies breach of premier's office
March 23:●DPP calls for calm, safety of students as police action looms●President backs premier order to evict intruders from Executive Yuan●Premier orders police to evict protesters from Executive Yuan (update)
[A sit-in in front of the Executive Yuan Sunday night. CNA photo March 23, 2014]
●Police moving to arrest protesters damaging government properties●9 injured, sent to hospitals as protesters break into Executive Yuan●Protesters enter Executive Yuan, extending occupation movement frontline
[Demonstrators climb through windows of the Executive Yuan Sunday evening. CNA photo March 23, 2014]
(Click here for developments since the Legislature occupation starting March 18.)