Protesters say president 'insincere' in responses to their calls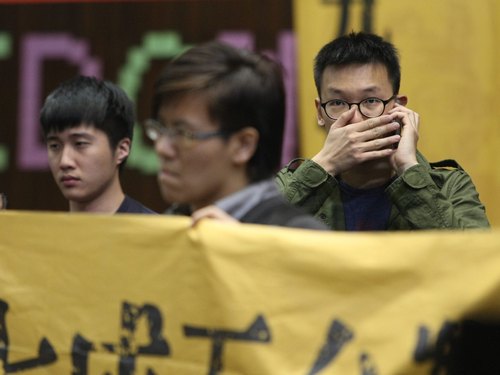 Taipei, March 23 (CNA) A leader of the protesters who occupied the Legislative Yuan to oppose Taiwan's services trade pact with China, dismissed President Ma Ying-jeou's response to their requests at a press conference earlier the day, calling them "insincere".
Chen Wei-ting, leader of the Democratic Front Against Cross-Strait Trade in Services Agreement, which has seized the Legislative Yuan since March 18, said the president does not even know what the protesters are requesting.
He led the protesters in chanting anti-trade pact slogans, urging the president to withdraw his administration's request for legislative ratification of the pact, and calling for the enactment of a law to allow the legislature to closely monitor pacts with China.
(By Maubo Chang)ENDITEM/ROBERT
Related stories:●March 23: President Ma defends services pact with China (update-1)●March 22: Premier rejects protesters' demand for withdraw of pact with China (update)
(For the latest on the Legislature occupation, click here.)