Premier rejects protesters' demand for withdrawal of pact (update)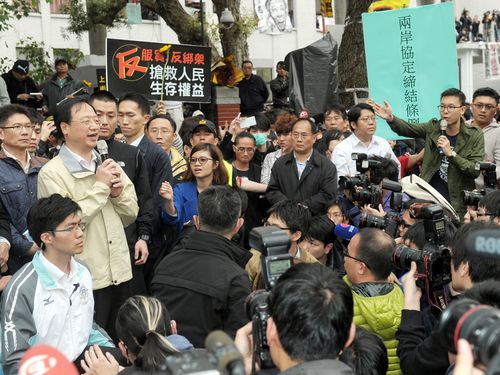 Taipei, March 22 (CNA) Premier Jiang Yi-huah said Saturday the Executive Yuan has no intention of withdrawing a services trade pact between Taiwan and China but he hopes it will be examined thoroughly in the Legislature.
Jiang made the comment in response to students-led protesters, who have been occupying the Legislature since Tuesday, demanding that the agreement be scrapped.
The premier's attempts to expand on the matter were cut short by the protesters, who shouted, "Return the service trade pact," and demanded direct communication with President Ma Ying-jeou.
Although the two sides failed to find common ground, the mood remained amicable, with the premier wearing a smile throughout the process.
In response to the students' request for a straightforward answer on whether the Executive Yuan would withdraw the agreement, Jiang said the situation should move beyond such a dichotomy.
"Can't we move on from 'a single answer to each question?'" the premier asked.
He also said he hoped his presence would dispel rumors that force would be used against the students, adding that he was "deeply saddened" by such speculation.
Jiang's meeting with the students was the government's first direct response to the demonstrators since they began occupying the Legislature Tuesday.
The protesters, however, said they would continue their action since they had reached no consensus with the premier.
(By Lee Hsin-Yin)ENDITEM /pc
(Premier Jiang Yi-huah speaks to protesters outside the Legislative Yuan Saturday afternoon, in Chinese)
Related stories:●March 22: Civic groups expect to hold talks with premier●March 22: Legislative speaker to seek consensus on service trade pact●March 22: DPP schedules review of China trade pact; KMT vows boycott●March 22: While favoring dialogue, Ma won't be forced into talks: official●March 21: KMT urges legislative speaker to coordinate over trade pact●March 21: Major parties talk tough as speaker seeks to end protest standoff
(For the latest on the Legislature occupation, click here.)