Frank Hsieh willing to visit China again if elected DPP chair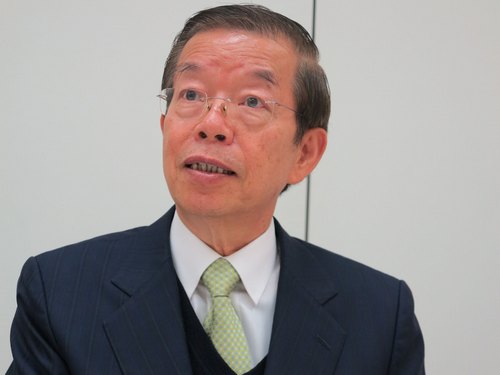 Shanghai, Feb. 8 (CNA) If elected head of the opposition Democratic Progressive Party (DPP) in May, former premier Frank Hsieh would not rule out visiting China in his capacity as party chairman, he told a Hong Kong-based TV station.
"If it would benefit the Taiwanese people and if there were such a need, I should go to the mainland (China), the United States and Japan," he told Pheonix Television in an interview aired Saturday.
"If the Taiwanese people needed it (the visit), but I were afraid of criticisms or damaging my reputation, that would be selfish," he said.
Hsieh, who served as premier under a DPP administration from February 2005 to January 2006, visited China in October 2012, becoming the most senior member from the former administration to do so.
He made another China trip last year, during which time he met with Zhang Zhijun, the head of China's Taiwan Affairs Office.
Hsieh announced his bid to head Taiwan's largest opposition party in late January.
In the Pheonix TV interview, he explained that he threw his hat into the ring because he thinks the DPP is in need of a breakthrough in its cross-strait policy.
"These days, everyone is avoiding the subject. But the chairmanship election will require debate and talking about substantive policies," he said.
Although the party, traditionally wary of close ties with Beijing, has set up a China Affairs Committee and convened several meetings, it has failed to formulate a clear-cut discourse on cross-strait policy, Hsieh said.
The DPP's next chairman will immediately need to tackle cross-strait policy issues, he continued, adding that there is not much time left before Taiwan's next presidential election in early 2016.
"I've devoted the most (to cross-strait policy) over the past several years and paid the biggest price. I believe that I should speak on it and I should serve as party chairman," he said.
The DPP ended a six-month marathon debate on its China policy last month that resulted in few substantive changes, though it promoted the ideals of creating a "friendly environment" for Chinese students, tourists and spouses coming to Taiwan.
The party reaffirmed the core values of its 1999 Resolution on Taiwan's Future, which states that Taiwan is a sovereign independent country and that any change in its status will need the approval of its residents through a referendum.
Hsieh, among others, said that even though the policy debate had come to a conclusion, the public has not been given a better understanding of the policy's substance.
He said at the time that the DPP's official debate summary only mentioned the country's constitution once -- when it brought up the Resolution on Taiwan's Future -- giving the impression that the party was trying to avoid the issue.