Ma wins support from U.S. political leaders in New York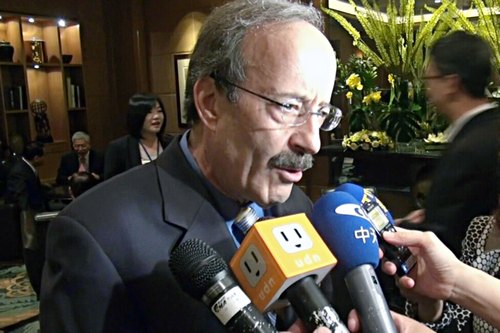 New York, Aug. 12 (CNA) Several American politicians expressed their support for Taiwan after meeting on Monday with President Ma Ying-jeou, who is in New York on a stopover before heading to Taiwan's four Caribbean allies and Paraguay.
Rep. Eliot Engel (D-N.Y.), a senior member of the House Committee on Foreign Affairs, said after meeting Ma at his hotel that there is a strong feeling of support for Taiwan and the people of Taiwan in the U.S. Congress.
"I think what's very important about it, it's bipartisan supported by the U.S. Congress. It's a bipartisan feeling. I know President Obama feels that way too. We will make sure that will continue," Engel said.
The congressman also said he told the president that the Foreign Affairs Committee approved the Taiwan Policy Act at the beginning of August, a bill that will help continue and strengthen the strong ties between Taiwan and the U.S. if passed into law, Engel said.
Rep. Gregory Meeks, a Democrat from New York who met with Ma at a dinner party thrown by Ma at his hotel, said he thanked the president for his administration's donation of US$500,000 to New York after the city was ravaged by Hurricane Sandy last year.
He said Ma and his guests talked about Taiwan's visa-waiver privilege from U.S. and its bid for access to the International Civil Aviation Organization, and they agreed to promote further trade and economic exchanges between the two countries.
The congressman praised Ma, who studied at New York University Law School, for not forgetting those who had helped him, including his university professors and his first boss at the law firm where he worked.
Ma also met on Monday with former U.S. Secretary of Labor Elaine Chao.
The Taiwan-born Chao told reporters that there were many issues of importance between the U.S. and Taiwan, the U.S. and China, and China and Taiwan, and that Taiwan's president was addressing them.
"I think President Ma is a leader with great vision and courage (who is) trying to build a safer and more secure long-term future for his country and the rest of the world," Chao said.
Accompanying Chao were her father, who was a classmate of Ma's late father-in-law, and her two sisters, who are friends of Ma's two daughters.
Ma is scheduled to leave New York for Haiti on Tuesday.
(By Tony Liao and Maubo Chang)ENDITEM/ls