Changhua signs MOU with offshore wind power developers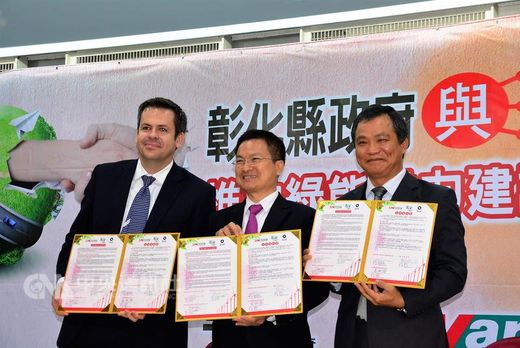 Taipei, March 8 (CNA) The Changhua County government signed a memorandum of understanding (MOU) on Wednesday with two wind energy developers that will see them invest NT$210 billion (US$6.8 billion) in renewable energy resources in central Taiwan.
The MOU was signed by Changhua Magistrate Wei Ming-ku (魏明谷), Swancor Renewable Energy Co. (上緯新能源) Chairman Robert Tsai (蔡朝陽) and Macquarie Formosa 1 Co. (麥格理一海洋風力發展) Chairman John Jackman.
The seabed within 60 kilometers of the Changhua coast is less than 50 meters deep and covers an area as big as 2,300 square kilometers, which is suitable for the exploration and development of wind energy, said Wei.
He said the county is dedicated to developing wind power and plans to set up 800-1,000 wind turbines.
Jackman, who is also managing director of Australian investment firm Macquarie Capital, said that in 2012, Macquarie Capital invested in offshore wind projects of 1.3 gigawatts, mainly in Germany and the United Kingdom, and that he hopes to provide knowledge, technology and job opportunities to Changhua via the joint investment project with Swancor.
Tsai said that his company has set up two wind turbines off Miaoli County in northern Taiwan and understands that the support of governments, local residents and fishermen is the key to success of such projects.
Tsai said they have chosen three sites off Changhua for exploration, with estimated total of at least 1.9 gigawatts.
Wei said that with previous MOUs signed with Dong Energy of Denmark, Taiwan Power Company (Taipower), Northland Power Inc. (NPI) of Canada and Yushan Energy Pte., Ltd. of Singapore, plus the MOU signed Wednesday, the central county has secured investment in offshore wind projects of NT$1.047 trillion.
Jerry J.R. Ou (歐嘉瑞), president of Da-Yeh University in Changhua County, who signed an MOU with Swancor on industry-university collaboration, said he hopes students majoring in electrical, mechanical and automation engineering at the school can learn about wind turbine maintenance through the project.
Renewable energy is a promising direction for Taiwan, and offshore wind power is one of its main projects, with Changhua accounting for about 60 percent of the country's offshore wind projects, said Ou.
(By Wu Jhe-hao and Kuo Chung-han) ENDITEM/J