U.S. will not push for meeting of Taiwan, China leaders: official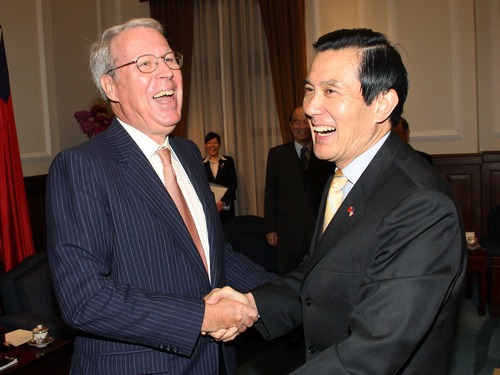 Washington, Aug. 28 (CNA) The United States has no intentions of pushing Taiwan's and China's leaders to meet face-to-face, a senior U.S. official said Wednesday.
Richard Burghardt, Washington's Taiwan policy chief and chairman of the American Institute in Taiwan, said that forcing such a meeting "probably [would] be a violation of one of the six assurances" the U.S. made to Taiwan in 1982, after official relations were broken off.
"America is not smart enough to facilitate a negotiation between the Chinese," Burghardt said on the sidelines of a seminar on U.S.-China ties, summarizing a quote he attributed to former U.S. Ambassador to China Winston Lord.
He dismissed the suggestion as "really not something that we would have a role trying to do."
Speculation on a possible meeting between the top leaders across the Taiwan Strait has been rife since President Ma Ying-jeou raised the possibility of attending next year's Asia-Pacific Economic Cooperation (APEC) summit in China.
That would mark a big change from past precedent in which Taiwan, participating under the name Chinese Taipei, has always appointed a proxy to the APEC leaders' summit.
The United States Congress in 1982 agreed to a six-point policy framework proposed by Taiwan. Called the Six Assurances, it stipulates:
1. The United States would not set a date for ending arms sales to Taiwan;
2. The United States would not alter the terms of the Taiwan Relations Act, the law that governs U.S. policy toward Taiwan in the absence of formal ties;
3. The United States would not consult with China in advance before making decisions about arms sales to Taiwan;
4. The United States would not mediate between Taiwan and China;
5. The United States would not change its position on the sovereignty of Taiwan, a question to be resolved peacefully by the people on both sides of the Taiwan Strait;
6. The United States would not exert pressure on Taiwan to enter negotiations with China.