2023 Hakka Expo set to be held across Taoyuan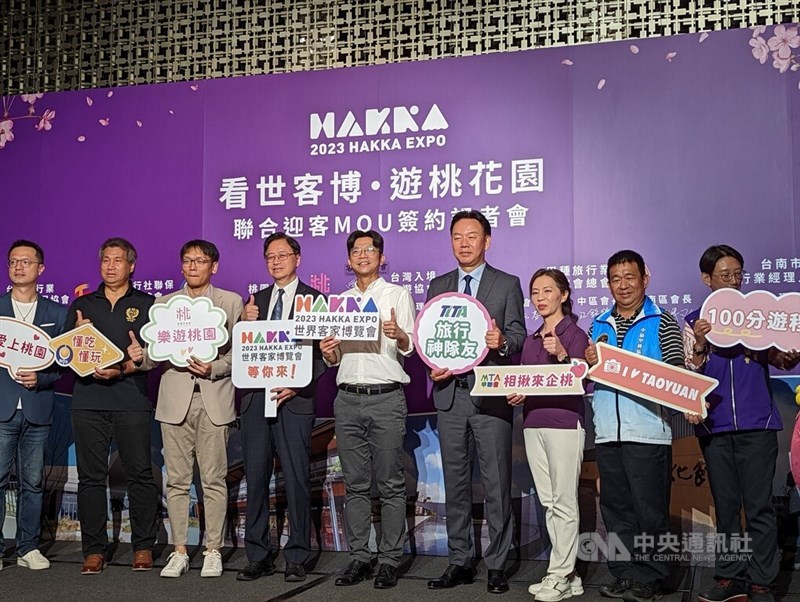 Taipei, July 11 (CNA) The 2023 Hakka Expo, which aims to promote the culture and history of Taiwan's largest ethnic minority, is set to take place across different locations in Taoyuan between Aug. 11 and Oct. 15.
The two-month long event will be based around two main pavilions and 25 smaller exhibition areas in the northern Taiwan municipality, and will also include over 50 itineraries that tourists can travel to help enhance their knowledge of the Hakka people, the organizers, the Hakka Affairs Council and the Taoyuan City government, said during a press conference Tuesday.
The two main exhibition centers, World Pavilion and Taiwan Pavilion, will feature highlights of Hakka culture, delicacies and traditions, Taoyuan Mayor Simon Chang (張善政) said, touting his city as home to the most Hakka people in Taiwan.
The expo will be the best place for people to get an insight into Hakka customs and into how people from the ethnic group originally migrated from China to Taiwan and later further afield, Chang said.
According to information on the expo's official website, the 25 other exhibition areas will showcase themes such as Hakka movies, tea, calligraphy and crafts, as well as elements of history, including the Hakka's resistance to the Japanese invasion in 1895.
There will be more than 600 travel agencies participating in the expo, which is aiming to attract around six million visitors, including 200,000 foreign tourists, the organizers said.
One of the aims of the expo is to expand on people's traditional impressions of Hakka culture, which famously include salty pork, printed cloth fabrics and Tung blossom, said Chou Chiang-chieh (周江杰), an official at the Hakka Affairs Council.
Since around 1850, Hakka people have been spreading their own special culture and identity around the world, the organizers added.
However, Chou emphasized he would like to see Taoyuan, home to almost 1 million Hakka people in 2022, become the world's Hakka capital.