Taiwanese artist's animated film shines at Tokyo art fair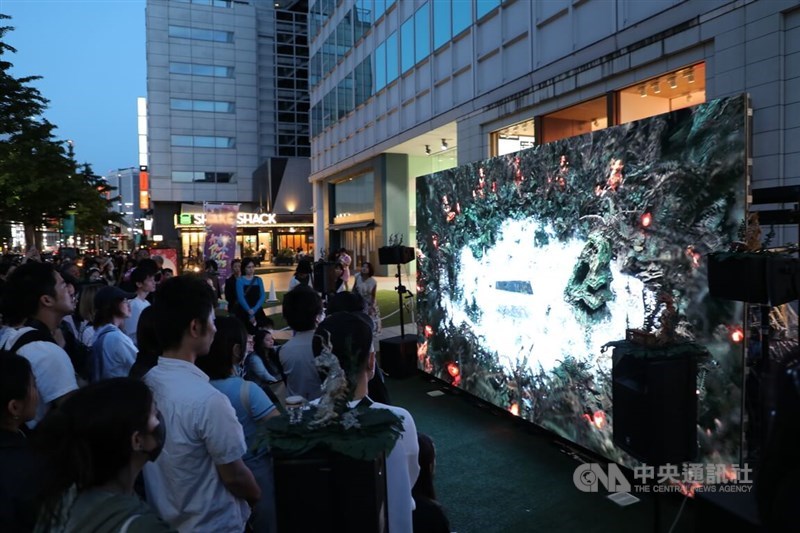 Tokyo, May 28 (CNA) A short animated film by Taiwanese artist Zhang Xu Zhan (張徐展), which integrates similar folktale narratives from different countries, was well received by the audience at the Roppongi Art Night in Tokyo on Saturday.
A screening of the 16-minute "Compound Eyes of Tropical" demonstrated a delicate world, and both the plot and the art effects were highly creative, event goers told CNA.
Originally adapted from the Southeast Asian folktale "The Mousedeer Crosses the River," the film also incorporates elements from Taiwan's folk culture dance parades (Yi Zhen 藝陣) and ceremonial festivals to tell the story of how a smart mousedeer tricks a crocodile to cross a river.
In the animation, Zhang Xu said, he used a fractured perspective -- like the compound eye of a fly -- to guide the audience back and forth through various stories with different perspectives.
Zhang Xu also said he thinks it is important to introduce Yi Zhen to an international audience so that the Taiwanese culture can be seen on a global stage.
Source: OpenTix / Taipei Golden Horse Film Festival / Taipei Fine Museum / Mores Zhan's YouTube channel
Born in 1988, into a family that runs the century-old Hsin-Hsing Paper Sculpture Store in New Taipei, Zhang Xu's "Compound Eyes of Tropical" won the best animated short film at the 59th Golden Horse Award in 2022.
Zhang Xu, who specializes in creating a riotous profusion of paper effigies ranging from luxurious mansions to paper-pasted mythological animals, was also the first Taiwanese artist to be designated one of the Deutsche Bank Artists of the Year in 2020.
His artworks not only revolve around absurd and bizarre images, but also encapsulate observations on social phenomena and his family business.
The Roppongi Art Night, which was launched in 2009 but suspended from 2020-2021 due to the COVID-19 pandemic, showcased 45 artworks and 70 programs from May 27-28.
Press photos released by Taipei Fine Arts Museum to promote Zhang Xu Zhan's exhibition in 2022: